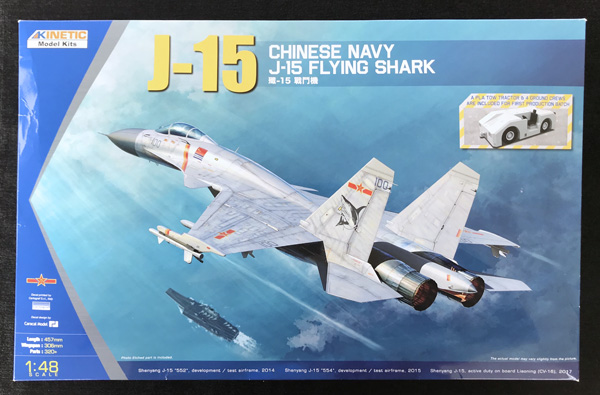 Full Review with Dave Coward
A note from Geoff C…
Just before we get going, here are a couple of photos of Dave's completed J-15 and an impressive looking bird it is for sure! Thanks Dave for a great job.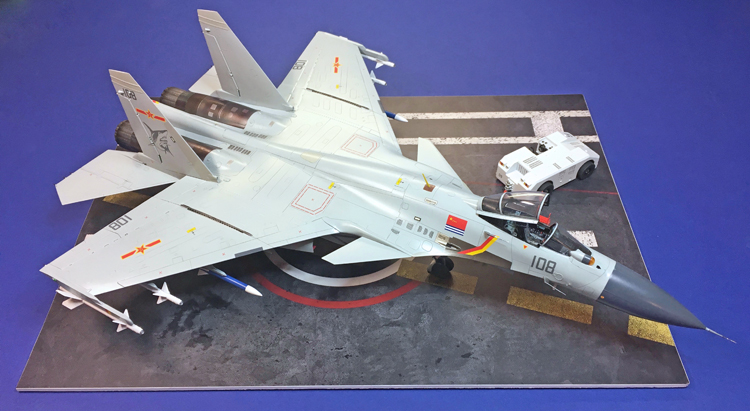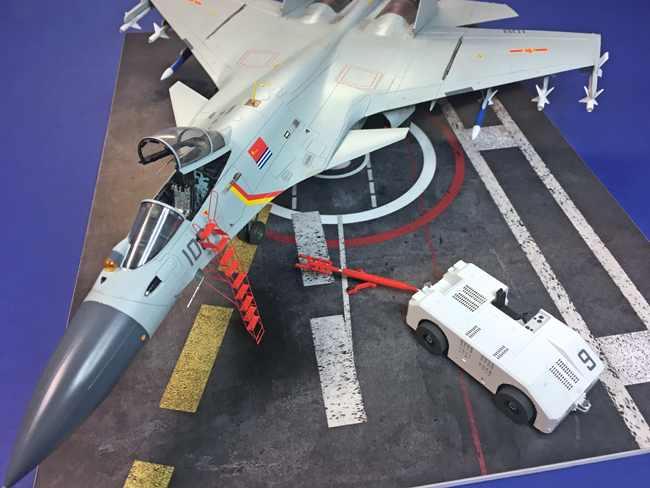 Over to you Dave to tell your story…
---

Background
The Shenyang J-15, nicknamed the Flying Shark is a carrier-borne air superiority fighter jet. Its development was marked by a controversy. Russia claims that the Chinese have violated intellectual property agreements by creating their own version of Russian Sukhoi Su-33 fighter jet. This incident led to the end of negotiation between China and Russia, in 2006, regarding military aircraft trade.
It all started at the turn of the 21st century when Chinese MoD decided to improve the People's Liberation Army Naval Air Force. They wanted to acquire Sukhoi Su-33 aircrafts for the use on their aircraft carrier.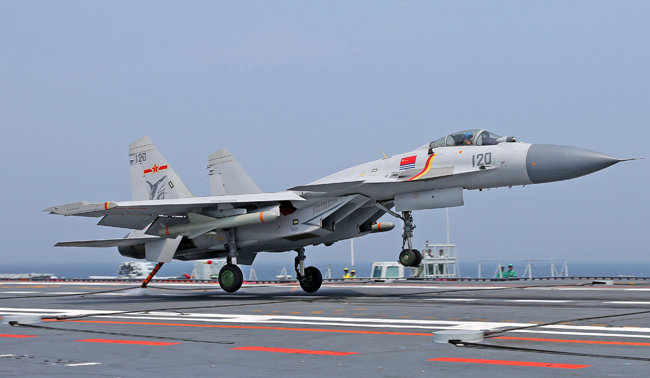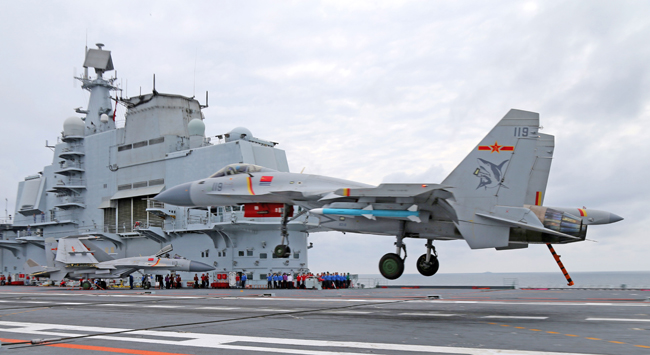 It has been reported that in 2001 China acquired an unfinished prototype of the Su-33 from Ukraine. In 2006 China ordered two Russian Su-33 carrier-based naval fighters for trials and evaluation. Delivery was expected in 2007-2008. There was also an agreed option for another 12-48 Su-33s fighters. However, negotiations stagnated, as China sought to reduce Russian content in the aircraft, while Russia wanted to ensure a level of income from sales and future upgrades. It seems that after long and unsuccessful negotiation, Chinese used the Ukrainian Su-33 prototype for what would later became the J-15.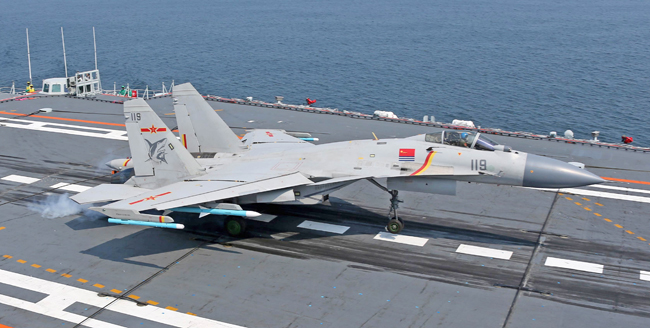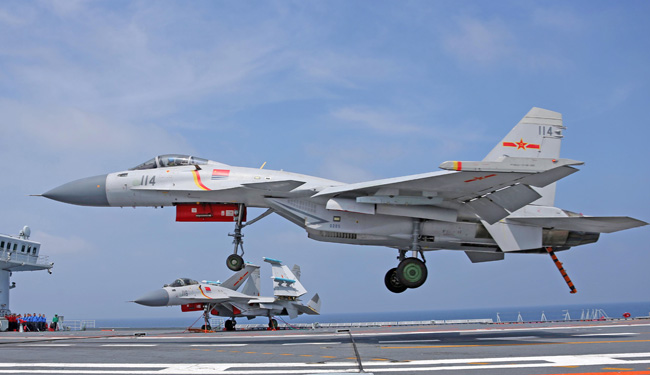 The J-15 Flying Shark is based on the Su-33 design, but it is fitted with indigenous engines, weapons and radar. In many aspects the J-15 is similar to Shenyang J-11 air superiority aircraft that is based around the similar Su-27 airframe.
The Shenyang J-15 made its first flight in 2009 and was introduced in the Chinese Navy in 2013. Currently this shipborne aircraft is produced in quantity. So far, there are more than 20 Flying Sharks built, all of which are employed by the Chinese Navy. It is reported that there are 24 Shenyang J-15's operational on board the only active Chinese aircraft carrier Liaoning.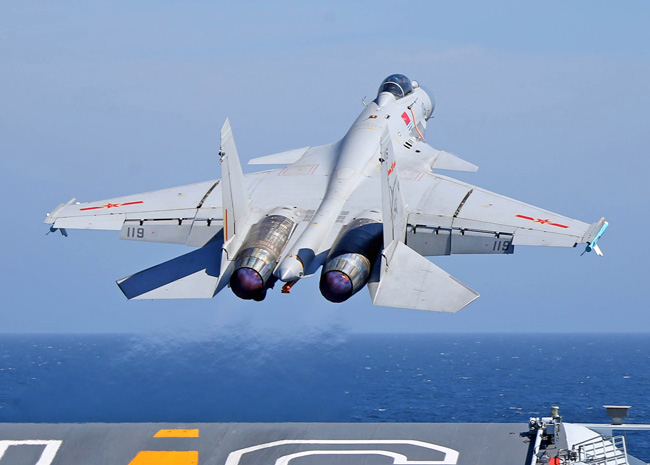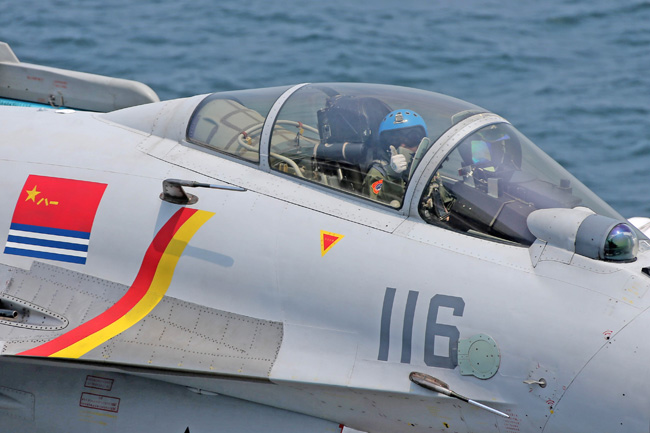 There are two versions of the Flying Shark, the single-seat and the twin-seat variant. The twin-seater made its maiden flight in 2012. Essentially it is a combat capable trainer.
Compared to the Su-33, the Shenyang J-15 is much faster (2,940 km/h opposed to 2 300 km), has a longer range (3,500 km opposed to 3 000 km), and a higher service ceiling (20 km opposed to 17 km). However, Russian claims that the Flying Shark is no match for their Sukhoi Su-33 and that the Chinese are bound to purchase it, sooner or later. Notably equipment and armament of Sukhoi Su-33 are regarded superior to that of the Chinese jet, although this is debatable.
This fighter aircraft can carry indigenous PL-12 medium-range air-to-air missiles. Also, there are short-range PL-7, PL-8, PL-9 missiles in its inventory. The J-15 is reportedly capable of carrying US AIM-9L/M air-to-air missiles. This fighter aircraft can carry various bombs including guided ones. The J-15 can be equipped with an external in-flight refuelling probe, which can be used to extend the range of similar carrier-borne fighters.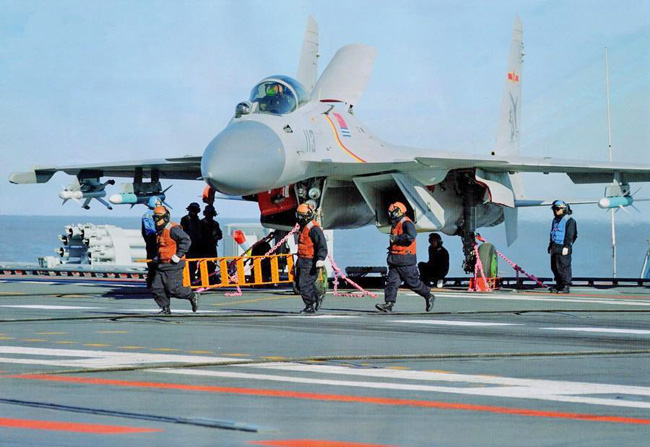 According to the chief designer of the Flying Shark, this aircraft has what it takes to be a worthy competitor to Sukhoi Su-33, as well as Eurofighter Typhoon, Boeing F/A-18E Super Hornet, and other carrier-based aircraft of the same class. The chief designer cites electronic systems to be the weakest link of this jet. He also mentioned that Chinese-built Woshan WS-10A "Taihang" turbofans need improvement in the future in order to match the quality of Russian engines.
References used:
• Internet
• Kinetic Su-33 build – see it here
Aftermarket Extras:
• Newave Masks (airframe, engine)
• Ejection Seat PE
• Master Pitot tube
• Master Static Dischargers
• Dream Models ladder.