Feature Article with Andy Frill
Just before we get started, here's a quick look at how it all turned out…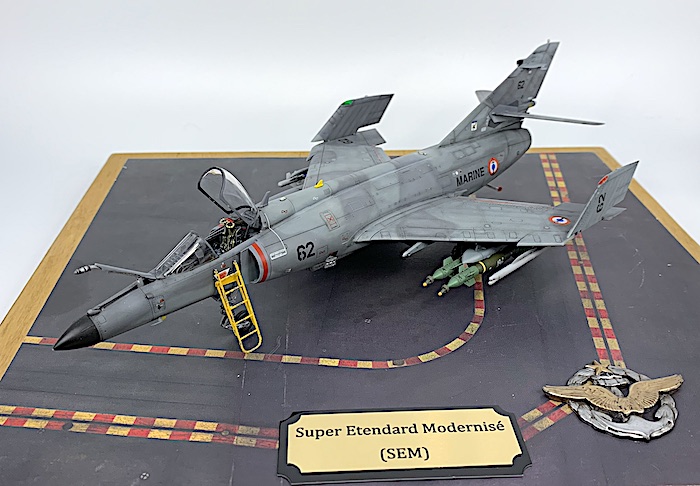 While at the 2016 IPMS USA Nationals in Columbia South Carolina. I happened to come across the (at the time) new Kitty Hawk 1:48 Super Etendard SEM on one of the vendor tables. While the Kinetic kit had been released, I chose to go ahead and get and build the Kitty Hawk kit.
When I opened the box I was impressed with the amount of sprues you got for your money. Kitty Hawk includes every piece of ordinance used by the French and even included a buddy refuelling pod! So it was time to dive in and get started on the build. Kitty Hawk decided to split the fuselage in an interesting way but more on that later.
Like any aircraft kit you start in the cockpit. The Kitty Hawk cockpit is nice out of the box and I even used the kit supplied decals for the instrument panel and for the side panels in the cockpit. I painted the cockpit in Tamiya NATO Black XF-69 and dry brushed it with XF-63 German Gray. I then put a coat of Tamiya clear gloss X-22 and applied the kit supplied decals for the cockpit Instrument panel and side consoles.