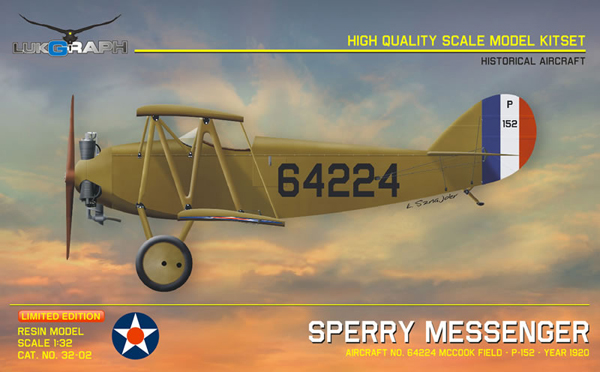 with Alan Rowley
Lawrence Sperry and the Sperry Messenger
I will declare my hand, I really love Lukgraph kits, and kudos to them for not banging out yet another P-51D Mustang. They come up with some great models of rare subjects and are a delight to build, but is this one just a bit too boring? For me the challenge of building something that has a unique outcome has become the great driver in model making. Every plane of this era has a story and almost every model can be modified in some way to give a unique result.
Finding this one at a decent price on e-Bay and wanting something to research, build and carry back from a lazy holiday, I snapped it up and started some project ideas running.
Ideas, ideas
The idea that first came to mind was build it as per instructions and freelance paint it as a Barnstormer. Its about as typical a barnstorming airplane as you could hope to find; it's an obscure domestic design, had a brief and uneventful service life before being sold off as army surplus and was a tough little bird.
Ira Eaker, an Air Force Captain at the time and later to become US Air Force 4 star general and Chief of Air Staff recalled "It was one of the toughest planes ever made in those early days of flying. I saw a Sperry Messenger land upside down at Mitchell Field …. A nerr do well barnstormer was fond of flying low over the hangars, buzzing the ground crews. He drank. One day he flew a little too low upside down, and flopped… This guy got up, brushed himself off, and walked away. The propeller was broken, otherwise that little Sperry Messenger was as good as new"
The second idea was to build it in the military vein but as an example of the first heavier than air craft to dock successfully with an airship. I have had the idea for some time to build a Curtiss F9C Sparrowhawk and display it suspended by its skyhook from the undersurface of the shelf. My recent Sparrowhawk build had even left me with a spare skyhook. As I have the attention span of Bart Simpson, in usual fashion I swerved off piste and converted it to a Curtiss company owned prototype without the arrester gear.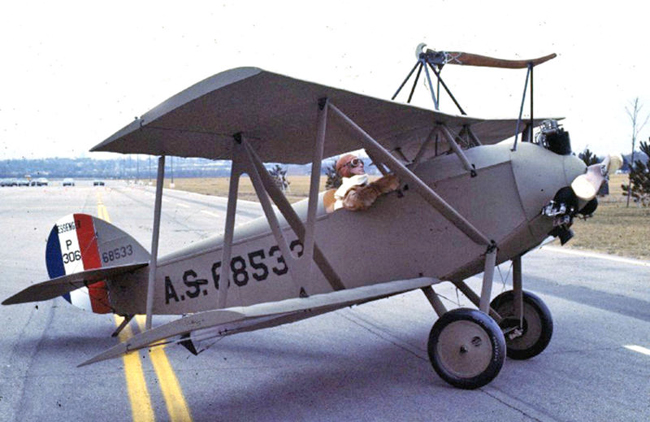 Here's a replica Messenger, skyhook attached. In Dec 1924 a Messenger briefly hooked onto an airship using a skyhook device developed by Lawrence Sperry.
A third idea was to build it as a replica of Lawrence Sperrys personal plane which he famously landed in the centre of Washington and unannounced, gate-crashed the office of the Under Secretary of State for the Navy to demand payment of overdue debts. The entry in Wikipedia "Sperry Messenger" details this and other snippets, almost all of which are factually incorrect.
These images however are not, and they illustrate the intense publicity which Sperry could create, as a crowd forms round his plane just landed on the steps of the Capitol Building.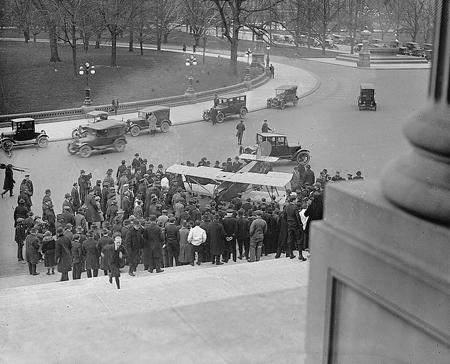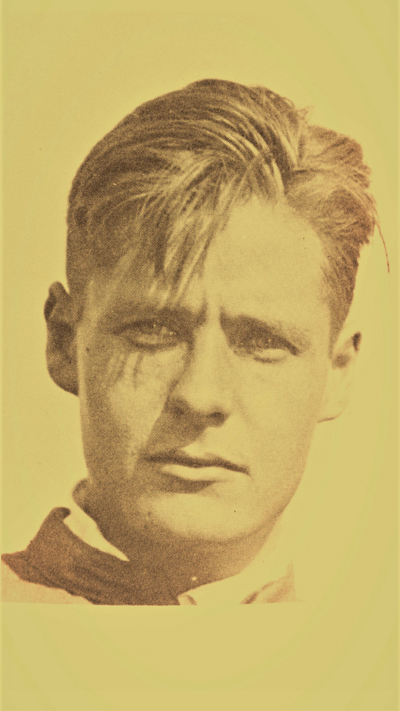 The Man
Researching this third option, and becoming more intrigued by Sperry the man, I bought a copy of "Gyro, the life and times of Lawrence Sperry" …and inspiration from a new dimension came spinning my way…
Lawrence Sperry was born into a wealthy middle class East Coast American family. His father, Ambrose Sperry was the joint inventor of a gyroscopic stabilisation system which was widely applied in shipping, The application of this technology, not just to shipping but to range finding, bomb aiming, torpedo guidance and gunnery control was a wealth generator beyond all imagination in the years leading up to and during the Great War .Lawrence's obsession with aviation and his privileged upbringing enabled him to devote his early life to flying and indulge in a wide range of schemes and inventions. He was a natural pilot and experimented with flight in extreme conditions and in taking planes to their design limits, believing that all pilots should fully experience being out of their comfort zone as a natural part of their training. His imaginative, daring and sometimes wild ideas entranced the public and according to Jimmy Doolittle, Lawrence did more to popularise aviation than any man prior to Lindberg.
Sperrys enthusiasm captivated a wide circle of aviation's great names. Working for Glen Curtis as an engineer and test pilot in his late teens, he befriended the pugnacious working-class Jimmy Doolittle. He was to become something of a protégé for General of the Air Force Billy Mitchell, and was a sometime housemate of Grover Loening, the future head of Loening Aircraft Corporation which was instrumental in the founding of Grumman. Mitchells circle introduced him to Albert Verville, Ira Eaker and Eddie Rickenbacker. He became friends with Edsel and Henry Ford, and after a wild, hell raising time as a bachelor settled down to marry a beautiful young Hollywood actress who had starred in films alongside Douglas Fairbanks.
In his private life the handsome daredevil young heir to the Sperry fortune was understandably rather a magnet for the ladies. Using his own invention of a gyroscopic stabiliser to control aircraft in flight, Sperry and the lively Mrs Cynthia Polk (whose husband was otherwise engaged at the war driving an ambulance) achieved a notable joint first which has led them to being celebrated as founder members of "The Mile-High Club". This was widely reported in the scandal sheets and tabloids of the time. I muse that the Sun Newspaper today would describe it as an "Aerial Tryst".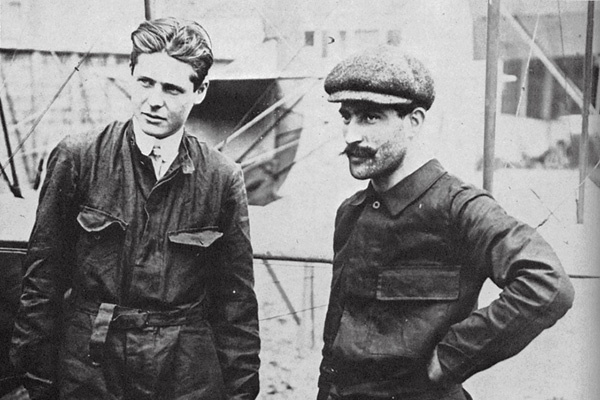 Sperry was a prolific inventor and improver of aircraft control and safety systems, ultimately being awarded twenty-six aviation patents. His enduring inventions being the autopilot and artificial horizon. His innovations led to celebrity in France for his dramatic prizewinning demonstration of automated aircraft control. Eventually the British Government invited him to the UK along with his Messenger aircraft on an all-expenses paid visit.
On Dec 13, 1923, the thirty-one year Sperry set off from Croydon Airport bound for Amsterdam. Three miles off the coast of Kent the engine of his Messenger cut out and he ditched in the sea. Rescuers found the floating plane in the mist two hours later, but Sperry was not at the crash site. Although a strong swimmer he drowned, probably overcome by hypothermia, his body was found later. The Lawrance engine had suffered a catastrophic valve failure.
A photograph survives of Lawrence and his Messenger aircraft, taken during his tour of the UK. Although Lawrence was assisting the Liberal party during their election campaign he was quite apolitical, using this solely as an opportunity to publicise his beloved plane.
This is the subject I decided to attempt to capture in model form.