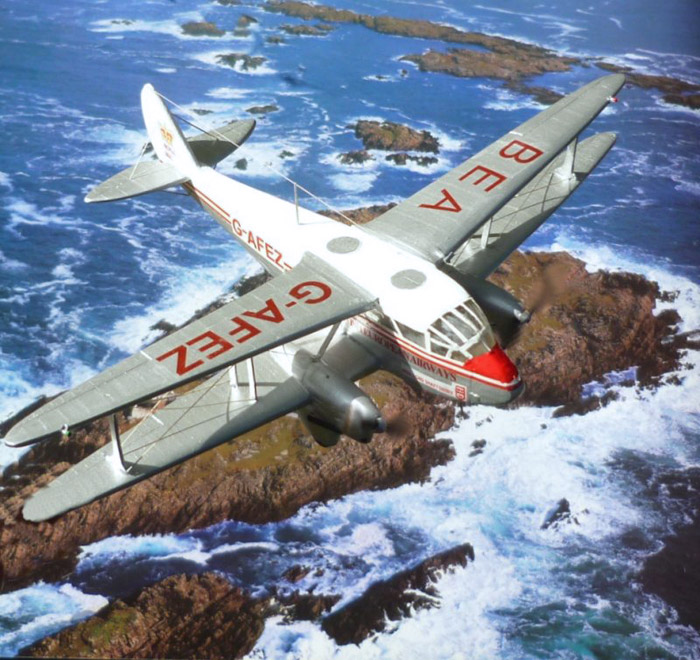 Feature Article with Fred Martin
Extreme restoration
The rotted remains of real aircraft are sometimes dredged up from the sea bed, found in remote locations or discovered in conditions that are little more than junk. Some are deliberately kept in that condition, for example as museum pieces. On other occasions, they provide the basis for extreme forms of restoration that in reality, can amount to complete rebuilds. This article is intended as a modeller's equivalent of an extreme restoration. It starts with little and by scratch building and using spare parts, it ends up as a complete representation of the aircraft.
Enter the Dragon
The D.H. 89 Dragon Rapide is one of a line of De Havilland twin-engined passenger aircraft designed in the 1930s, the first flight dating from 1934. The type saw extensive and varied uses both before and long after the end of WW2, for example in military use during the Spanish civil war through to air ferry operations by BEA between remote Scottish islands. In military service, it was known as the Dominie serving with the RAF, Royal Navy and several other air forces in roles such as training, ambulance and general transport.
Kits of the Dragon Rapide
Some injection moulded kits of the Rapide have been produced in 1:72 scale, notably by Airfix, Heller and Tasman Model Products. A much older kit by FROG is at the scale of 1:68.
The Rareplanes vacform kit in 1:72, the subject of this article, is an accurate and neatly produced kit of the type, though no decals were included. There is, however, no shortage of colour schemes for the Rapide, many of which are available as aftermarket decal sheets or can be reproduced in other ways.
The Rareplanes kit
The Rareplane's product is a cleverly designed kit with the fuselage made from transparent material. This makes it easier to cope with windows as all one needs do is to paint the frames around them instead of having to cut out and insert separate pieces. The downside is that the material is not the usual plastic that melts and bonds so either PVA or very careful use of a superglue is needed.