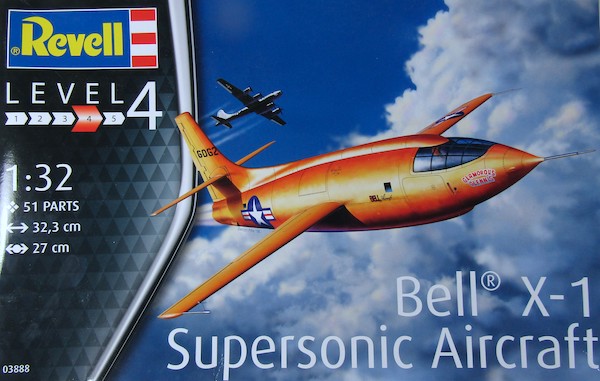 Full Review with Mick Stephen
Introduction
Before we get started, here's a quick look at how it all turned out…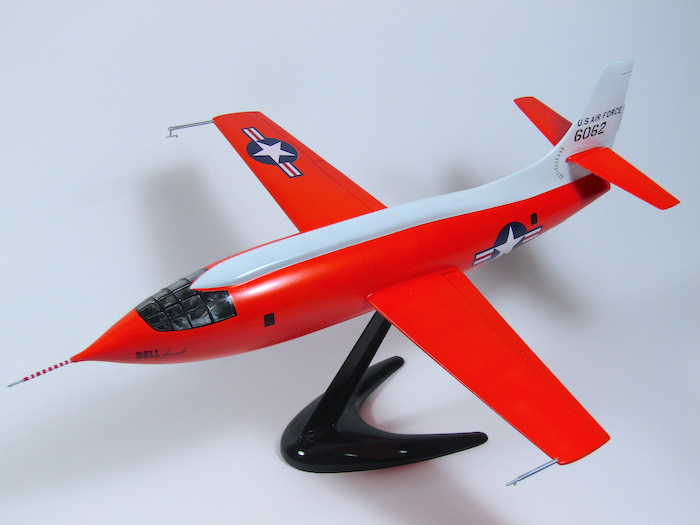 The Bell X-1 (Bell Model 44) is a rocket engine–powered aircraft, designated originally as the XS-1, and was a joint National Advisory Committee for Aeronautics–U.S. Army Air Forces–U.S. Air Force supersonic research project built by Bell Aircraft. Conceived during 1944 and designed and built in 1945, it achieved a speed of nearly 1,000 miles per hour (1,600 km/h; 870 kn) in 1948. The X-1, piloted by Chuck Yeager, named Glamorous Glennis after his mother, was the first manned airplane to exceed the speed of sound in level flight and was the first of the X-planes, a series of American experimental rocket planes (and non-rocket planes) designed for testing new technologies.
When we talk about the X-1, the first thing that comes to mind is that 1st supersonic flight by Chuck Yeager, however the airframe went through numerous variants and with many other pilots to reach new record levels.
An early derivative of this same design, the Bell X-1A, (and the same airframe 6062), having greater fuel capacity and hence longer rocket burning time, reached a new unofficial world altitude record of 73,000 feet and later exceeded 1,600 miles per hour (2,600 km/h).
The pilot was Frank Kendall Everest Jr, nicknamed 'Pete'.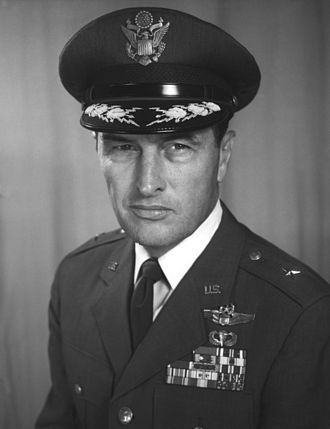 He entered United States Army Air Forces aviation cadet pilot training on November 11, 1941, graduated and received a commission on July 3, 1942. Among his classmates in Class 42-F was future ETO ace Robert S. Johnson. After Curtiss P-40 aircraft training, he was sent to North Africa and flew 94 combat missions in Africa, Sicily and Italy with the 314th Fighter Squadron, 324th Fighter Group. During that tour of duty he shot down two German Ju 52 transports on April 18, 1943, and damaged another.
In May 1944 he was assigned to a fighter squadron at Venice, Florida as an instructor. He asked for combat duty again and was assigned to the China-Burma-India Theater of Operations. There he was assigned to command the 17th Provisional Fighter Squadron, 5th Provisional Fighter Group of the Chinese-American Composite Wing at Chinkiang, China. This wing consisted of both USAAF and Republic of China pilots flying in mixed elements. He completed 67 combat missions before his plane was shot down by ground fire in May 1945. He was captured and tortured as a Japanese prisoner of war before being repatriated at the end of hostilities.
Following a rest leave, he was assigned in February 1946 to the Flight Test Division at Wright-Patterson Air Force Base in Ohio as a test pilot. Graduating from Air Materiel Command Flight Performance School with the Class 46D, he took part in many experimental tests of the Bell X-1 and established an unofficial world altitude record of 73,000 feet.
In September 1951 he was transferred to the Air Force Flight Test Center at Edwards Air Force Base, California, and became the chief Air Force test pilot as head of the Flight Test Operations Division. During his stay at Edwards, Everest tested the X-1, 2, 3, 4 and 5; XF-92 and YB-52. He also took part in test programs for the F-88, 100, 101, 102, 104 and 105; the B-52, B-57 and 66 aircraft. On October 29, 1953, he established a world speed record of 755.149 mph in a F-100A.
Everest test-flew the Bell X-1B to a speed of Mach 2.3 (2.3 times the speed of sound) in December 1954, making him the second fastest man in the world, Later flights in the Bell X-2 rocket plane established him as "the fastest man alive" when he attained a new unofficial speed record of 1,957 mph or Mach 2.9.
You can see his whole career here: Frank Kendall Everest Jr. – Wikipedia