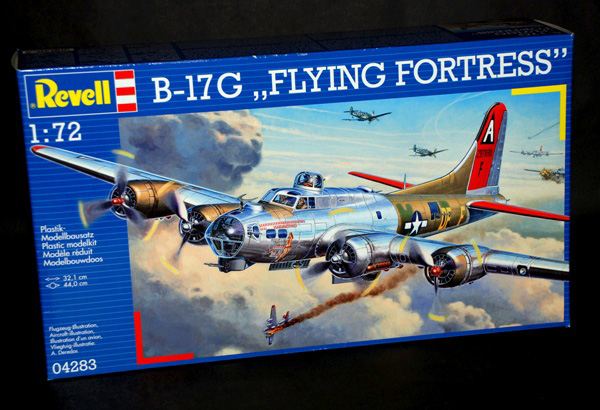 Full Review with Daniel Baxter
(Note: This build was inspired by Geoffs Airfix B17 build which I originally saw on this site and had the pleasure of seeing at SMW 2018) Ed: Thanks Dan!
---
A note from Geoff C…
Just before we get going, I have learned that Dan is in fact a very inexperienced modeller – incredible when you see the results that he has achieved! Here's a sneak peek at Dan's finished B-17G Flying Fortress – love it!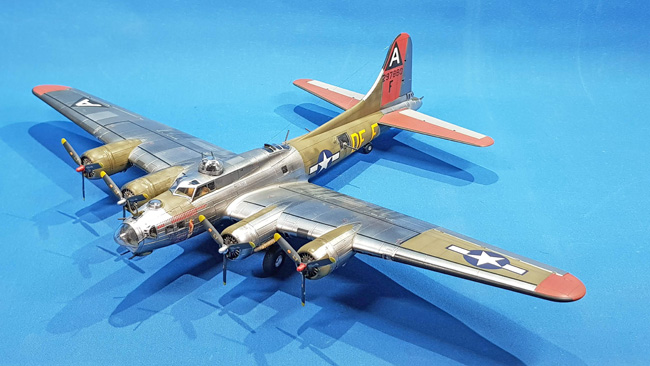 ---
The Boeing B-17 Flying Fortress is a four-engined heavy bomber developed in the 1930s for the United States Army Air Corps(USAAC). Competing against Douglas and Martin for a contract to build 200 bombers, the Boeing entry (prototype Model 299/XB-17) outperformed both competitors and exceeded the air corps' performance specifications. Although Boeing lost the contract (to the Douglas B-18 Bolo) because the prototype crashed, the air corps ordered 13 more B-17s for further evaluation.
From its introduction in 1938, the B-17 Flying Fortress evolved through numerous design advances, becoming the third-most produced bomber of all time, behind the four-engined B-24 and the multi-role, twin-engined Ju 88.
The B-17 was primarily employed by the USAAC in the daylight strategic bombing campaign of World War II against German industrial and military targets. The United States Eighth Air Force, based at many airfields in central and southern England, and the Fifteenth Air Force, based in Italy, complemented the RAF Bomber Command's night time area bombing in the Combined Bomber Offensive to help secure air superiority over the cities, factories and battlefields of Western Europe in preparation for the invasion of France in 1944. The B-17 also participated to a lesser extent in the War in the Pacific, early in World War II, where it conducted raids against Japanese shipping and airfields.
(Source: From Wikipedia, the free encyclopaedia).
I have no specific plan in place for this build other than I'm going to do the "Little Miss Mischief" scheme which is the picture on the box.