Feature Article by Mick Stephen
Background
We could start as usual with a background on the Hunter, but I'm sure you have all read that before, so instead I wanted to give you a little insight into why and what we are building this time.
Last year in 2013 a band of enthusiastic modellers from Singapore banded together to create a display diorama as part of the annual ITE Airfix Model Competition sponsored by Hobby Bounties, HPM Models and others. This annual event brings together Aerospace Engineering students and the aircraft modelling community in Singapore.
The aim of the group was to create a diorama using only Airfix based kits for a given subject related to aircraft in Singapore. The diorama was based around the old grass airfield at Kallang with its distinctive art deco period Terminal façade, firstly for 1941 and the Fall of Singapore, with a fine display of Buffalo, Hurricane II, Blenheim IV, Walrus II and Hudson III aircraft, with a couple Japanese types thrown in for good measure. Our vehicle modellers added some ground transport to liven up the scene and our figure modelers added some manpower.
This year saw the theme become 1945 and the Liberation of Singapore, where we had another fine collection of a Liberator IV, Dakota, Beaufort, and captured IJN aircraft.
If you would like a closer look at what the modelers on this side of the world are up to, you can find it here:
http://www.spruecutters.com/events/event-coverage/430-national-airfix-
The next event is early in 2015, so we are starting ahead of time with a change of diorama and are also jumping forward in time to celebrate the upcoming 50th Anniversary of the Independence of Singapore in 1965, bring on the jet age.
As a long standing British colony, Singapore was the hub of the FEAF (Far East Air Force) stationed to protect British interests and sphere of influence in the Far East. With the air defense of the island also falling to the RAF, there were two main bases at Tengah and Selatan, Kallang having closed in the late 50's as unsuitable for jets. Unsurprisingly, primarily British aircraft will become the subject choice, however to give us a wider range we have expanded the theme to include all aircraft from any nation who were regular visitors or involved in the wide variety of operations that occurred in these turbulent days leading up to the end of the colonial era. We have also digressed from the Airfix only choice, so that we can encompass the wider subject, so anything goes.
The subject
RAF Tengah is my choice and was home to two main Squadrons, No 60 Squadron operating the Javelin FAW9 and No 20 Squadron equipped with Hawker Hunter FGA9 aircraft. Having spent some time on type, (albeit many years later in Oman) I put my hand up for the Hunter, but as all Hunter squadrons had a T-bird in the mix for pilot training, this just had to be my chosen victim.
No 20 Squadron deployed to Singapore in 1963, some aircraft taking up to 18 days to transit from the UK. With continual detachments to Butterworth, Labuan and Kuching in what is now modern day Malaysia and regular visits to Hong Kong, the Squadron was oversized with up to 23 aircraft on strength at any one time in two Flights 'A' & 'B'. Each flight had a twin seat T7 for pilot continuity training and these same airframes XF310 (T) & XL619 (S) remained with the Squadron till their withdrawal in 1967 to the UK, where 310 continued flying till retirement in 1993 and 619 was unfortunately lost in 1981 over the sea 50 miles SW of Brawdy in Wales.
Hawker Hunter T7 XF310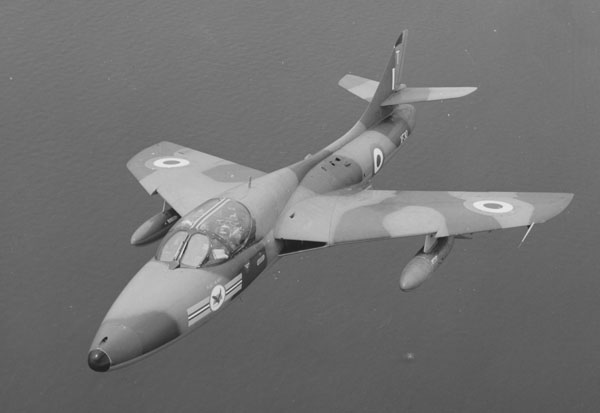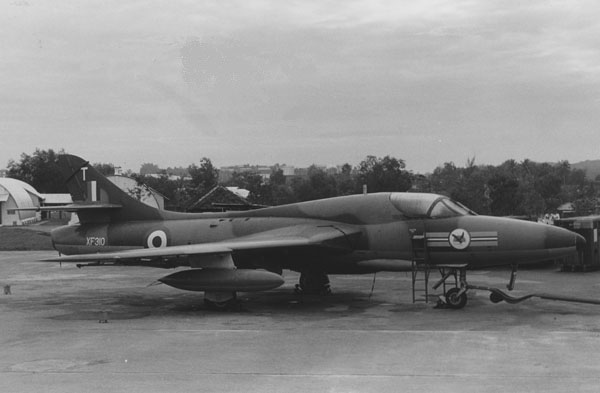 Hawker Hunter T7 XL619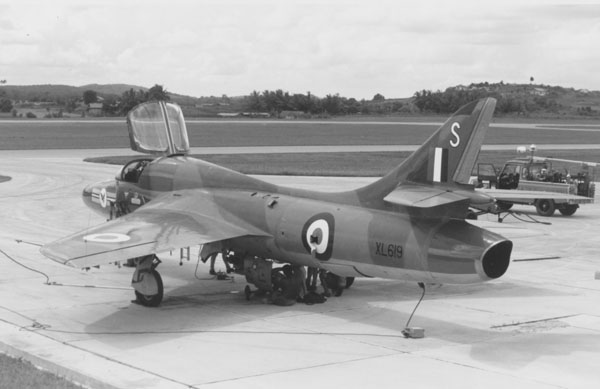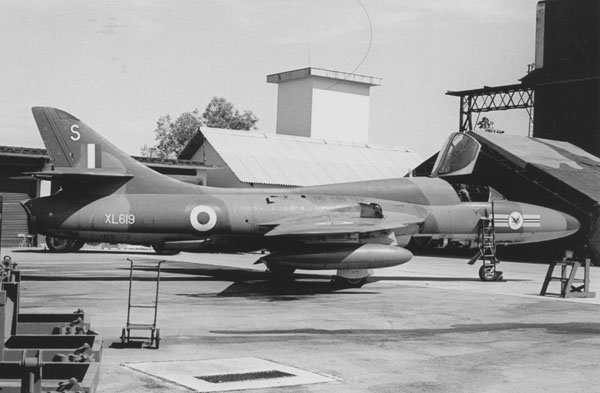 If you would like to learn more about the RAF in Singapore visit their website : www.rafseletar.org
So a T7 T'bird it is, next question is how to build it? Hunter twin seat kits were only ever produced by Matchbox and more recently by Xtrakit, with conversion sets to a T'bird from Aeroclub, LF Models and PJ Productions.
A dig through the stash turned up an old LF Models resin conversion set for a T7, which required a donor kit from the Revell FGA kit, funnily enough I had one of those too, lurking in the back of the cupboard. With any luck the T'bird will make a nice addition to the flight line of Hunters we have planned for the diorama, I may even lower my standards and have a go at some ground equipment. Being an avid aircraft and maritime subject only modeller, it may be interesting to see how I cope with the dreaded 'vehicle'. It may give you a laugh if nothing else, but don't for one second think I am being drawn to 'the dark side' this is a one-time deal!