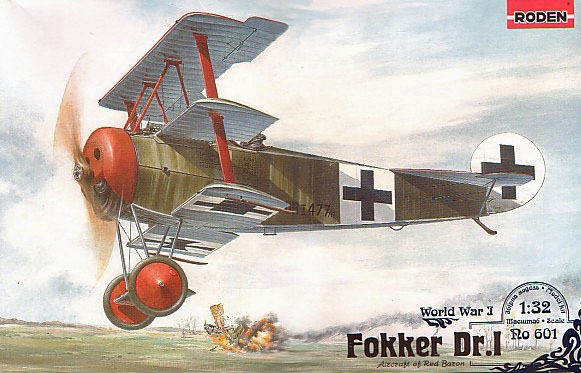 Feature Article by Dave Coward
Sneak View of Roden Fokker Dr.1 Triplane 1:32 Finished Model
Background
The Fokker Dr.I Tri-plane was, arguably Germany's most famous fighter aircraft in World War One. This aircraft was Germany's response to the British Sopwith Triplane, which had been used with great success during the Battle of Arras in April 1917. When one crashed behind German lines, it was stripped down and studied at great length by German aerial designers. This led to all the German aircraft manufacturers attempting to produce their own version for the IGAS. It was Anthony Fokker who was successful. .


The Dr.I was a very strong aircraft and also manoeuvrable. The majority were fitted with 110 hp engines. The relative lack of power in these engines was not a problem when combined with the three-wings of the aircraft. The Dr.I had an excellent rate of climb – far greater than an aircraft fitted with a more powerful engine. Its rate of climb and ability to turn swiftly made it a lethal opponent in a dog fight. However, the Fokker Dr.I did have two major failings. It was not fast when compared to some Allied fighters in 1917-1918. However, its manoeuvrability and agility tended to out-weigh this problem. It also had a relatively short time in the air – 80 minutes before it needed refuelling. However, its advantages were clear to see and above all, when Germany was suffering from the Allied blockade, it was relatively cheap to manufacture.


From October 1917 on, the Dr.I played an important role on the Western Front. 318 Fokker Dr.I's were built. Its fame oriented around certain aces – Voss and Richthofen being the two most famous. Its fame also obscured its first few weeks in active service. Voss, Platz and Fokker had combined all their ideas to create one formidable fighter – though the Dr.I was also used for scouting. What they could not factor in was poor workmanship within the manufacturing process. In the first two weeks of its time on active service with the IGAS, a number of Dr.I's crashed. The fault was traced to poor workmanship on the wings and all the tri-planes were grounded until the fault was corrected. Nearly the whole of November 1917 was spent correcting the wings of the Dr.1's and ensuring that the wing struts were adequate for their purpose.
Therefore, despite its reputation and place in aviation history, the Fokker Dr.I had a relatively short time in active service. Its reputation tends to be orientated around Richthofen's 'Flying Circus', which achieved legendary status both during and after World War One. Richthofen had two Fokker DR.I's that he flew and he preferred them to faster alternatives used by the IGAS. He was the highest scoring ace of World War One with 80 confirmed kills. However, 60 of these were achieved with other aircraft such as the Albatros D.III but the name 'Richthofen' and the Fokker Dr.I are invariably linked. Richthofen was flying a Dr.I when he was killed on April 21st 1918.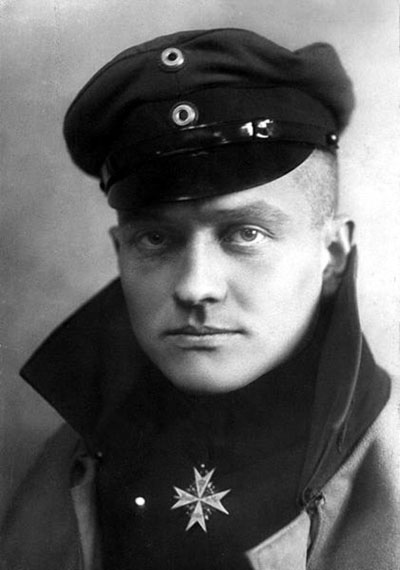 In May 1918, the number of Fokker Dr.I's in active service reached a peak – 171 aircraft. However, in terms of their ability they had been succeeded by the superior Fokker D.VII and by June 1918, the remaining frontline Dr.I's were withdrawn back to Germany to defend the country from invasion.
References used:
Internet
Aftermarket Extras:
Eagle Cal 32094 Fokker Dr.1 Part 2
Spare Seat Belts from a WNW kit