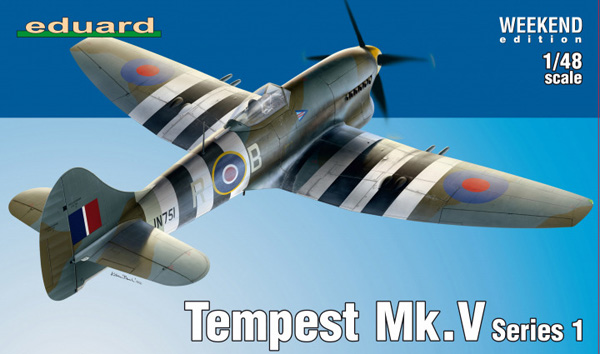 Full Review with Dai Williams
Here's a quick look at how it all turned out…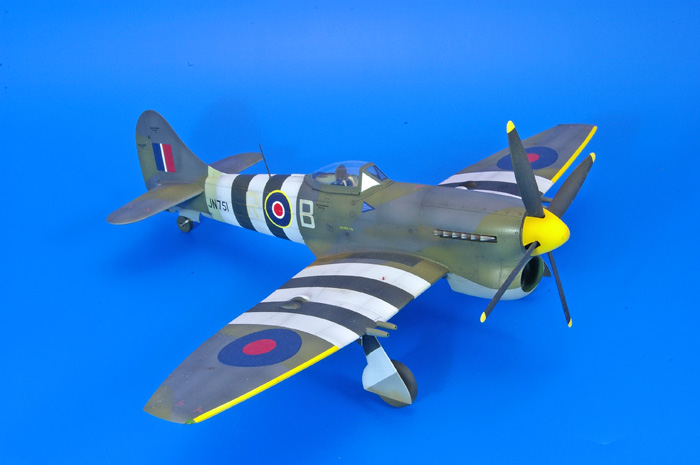 Here's the story…
The eduard 1:48 Hawker Tempest Mk.V (Series 1) Weekend Edition.
The eduard Hawker Tempest was released in 2018 and was an instant hit among modellers.
This new kit had nothing to do with eduard's earlier Tempest kit produced back in 1997.
SMN already has a couple of full builds for Special Hobby Hawker Tempest aircraft and you'll find them in the usual pages for completed Special Hobby build projects: Aircraft-Finished Now-Special Hobby.
A couple of features of this new kit show how far moulding technology has come in recent years. There is some amazing recessed rivet detail on the wings and fuselage and there is also a razor-sharp leading edge to the fin – a characteristic feature of the Tempest.
The kit has been released in two versions which cover the slight differences between the Series 1 and Series 2 aircraft (such as the fully recessed cannons introduced in Series 2). There are also full 'Profipack' editions of the kits containing pre-coloured etched brass sets and simpler 'Weekend' editions of the kits containing just the plastic parts. For those wanting to incorporate more detail eduard has also issued several accessory kits including such items as landing flaps and undercarriage legs in bronze.
I wanted to do a fairly quick (out of the box) build and so chose the 'Weekend' edition of the kit for this project. I think that calling a kit like this a 'Weekend' edition may be slightly misleading. There may well be people out there who could build a kit like this in a weekend, but, I must admit that I'm not one of them! However, I suppose that calling a kit the 'Three Or Four Weeks' edition just doesn't have the same marketing impact!
There are two sets of markings provided in the kit. These are very similar and are both for aircraft sporting a full set of the striking black and white stripes applied for the D Day landings in the summer of 1944. These D Day markings need to be painted on by the modeller and, for me at least, required a fair amount of measuring and masking to apply.
However, I understand that these D Day markings were applied only a few days before the invasion took place. I suppose that if you don't fancy the rather extensive masking job, the transfers in the kit could be used more or less as supplied to represent the aircraft before the invasion stripes were painted on.