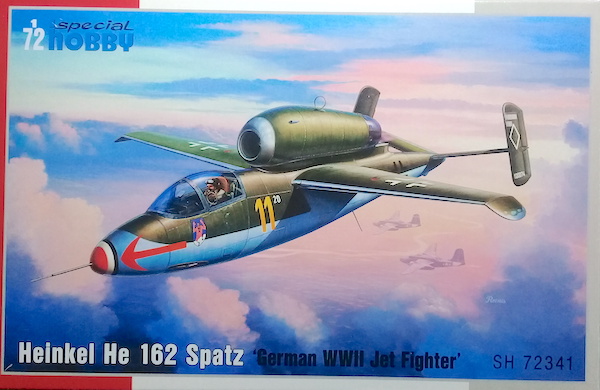 Feature Article with Ricardo Barrientos
Just before we get started, here's a quick look at how it all turned out…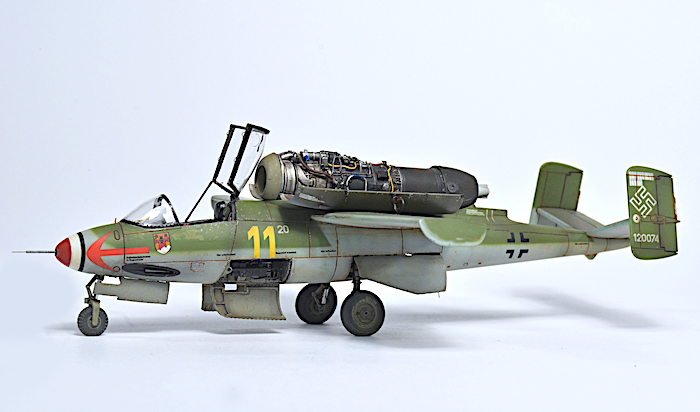 Let's get started…
Construction
Hello again from Guatemala!
This time I like to share advances in my current project, three Luftwaffe jets: the He 162, the Me 262 night fighter and the Ho 229. This is the Heinkel He 162 A-2 "Spatz", W.Nr. 120074, "Yellow 11", I./JG 1, flown by Oberleutnant Karl-Emil Demuth, Staffelführer of 3./JG 1 (Operations), surrendered to British forces at Leck, Germany, in May 1945. On the fin of this aircraft were painted 16 victory marks, which Oblt. Demuth achieved in previous aircraft, and its nose wore red-white-black rings, possible indicating an award such the German Cross of Gold.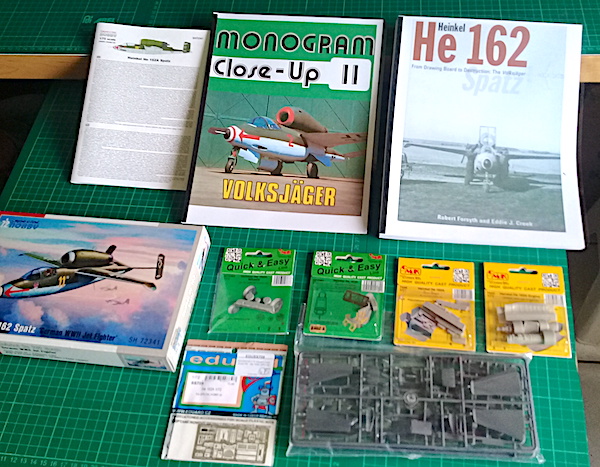 There are plenty of printed references for the Spatz, but I'm finding as the most interesting and useful the Forsyth R. and Creek E. J., 2009 book Heinkel He 162, from drawing board to destruction: the Volksjäger (Classic Aviation), and comprehensive study that meets the requirements both of the serious historian and the modeller. More modelling oriented useful printed references are Smith R. and Creek E. J., 1986 paperback Monogram Close-Up 11, Volksjäger, and the more recent and complete, Franks R. A., 2018 paperback Airframe Album 13, The Heinkel He 162, a detailed guide to the Luftwaffe's Volksjäger. There are also plenty of online references, but for the modeller I would strongly recommend the impressive section of the French site Memorial Flight (http://memorial.flight.free.fr/), dedicated to the restoration of the He 162 A-2 W.Nr. 120015 "Yellow 21", offering plenty of pictures of the restoration process, step by step, part by part, great for model detailing.
The kit is 1:72, the new 2020 tool from Special Hobby.
Czech Masters Kits (CMK) offers four dedicated resin aftermarket sets: 7443 resin highly detailed BMW 003 engine; 7444 resin highly detailed MG 151 gun bays; 72361, resin pilot's seat with photo etched parts; and, 72362, resin weighed wheels.
In addition, eduard issued the SS709 photo etched parts set. With all these aftermarket, what an IMPS Guatemala friend told me, "Ricardo, you don't put the aftermarket to the kit, you put the kit to the aftermarket…" becomes almost true, but if you really like detailing your models, the very high quality of the CMK resins and the usual quality of eduard photo etched parts are worth the extra cost.