Full Review with Dai Williams
Just before we go on, here's a look at how it all turned out…

The Seiran was a floatplane designed by the Japanese Aichi company specifically to be used from submarines. The original intention was to launch these aircraft from submarine aircraft carriers to mount attacks on the United States. However, as the war situation deteriorated for Japan, the number of carrier submarines actually built was reduced from the intended eighteen down to just three.
As the number of available carriers fell, production of the Seiran was halted after only 28 were built.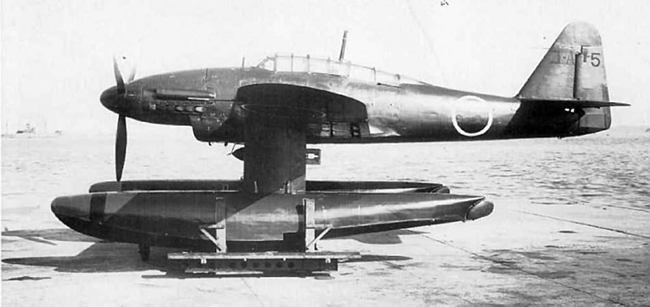 The Seiran was equipped with floats which could be jettisoned in flight to increase performance. To fit into the limited space inside the submarines on which it was carried, the wings and top of the tail could be folded. The aircraft could be launched from a catapult with or without the floats attached.
The task of warming up the engine before the aircraft could be launched was time consuming and very risky. It meant that the carrier submarine had to be on the surface and therefore dangerously exposed. To avoid this problem, the engine was 'pre-warmed' by pumping pre-heated oil and water into it while it was still in the hanger of the submarine.
Once it was realised that the bombing of the American mainland was impractical, the first mission involving the Seiran was to have been a surprise attack on the lock gates of the Panama Canal. Had this been successful it would have seriously hindered the movement of troops and supplies intended for the invasion of the Japanese mainland.
Due to the increasingly desperate war situation, the mission was switched to an attack on the American forces massed at Ulithi Atoll. However, the war ended with Japan's surrender before this attack could be carried out and the aircraft were either catapulted into the sea or pushed over the sides of their carrier submarines to avoid them being captured by the allies.
There is one Seiran still in existence. This has been carefully restored and is currently preserved in the Smithsonian's National Air and Space Museum in Washington.