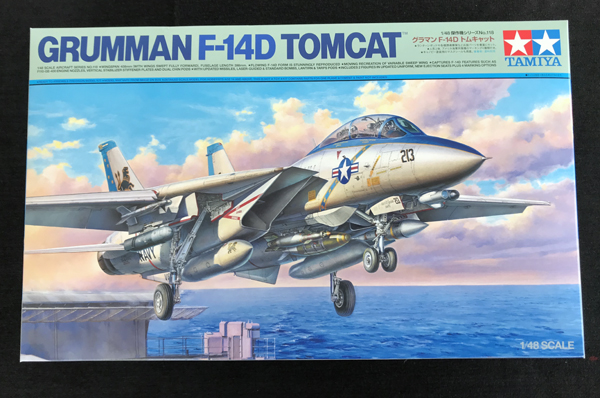 Full Review with Alan Kelley
Here Now Review
A note from Geoff C…
Many thanks to Alan for his excellent build you see here – a great job and some impressive weathering. Alan will share the whole story below and I just thought that you'd like to see his finished model right up front…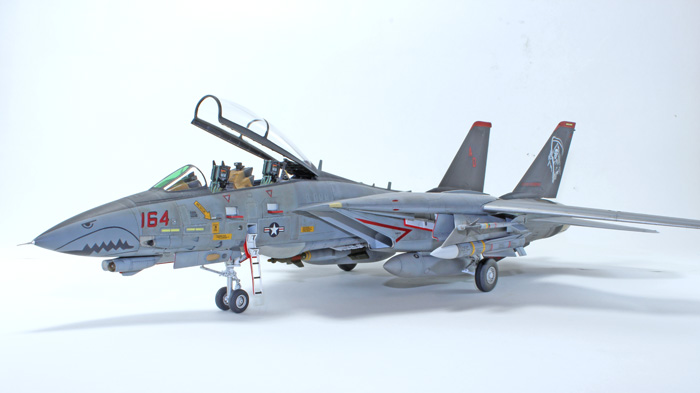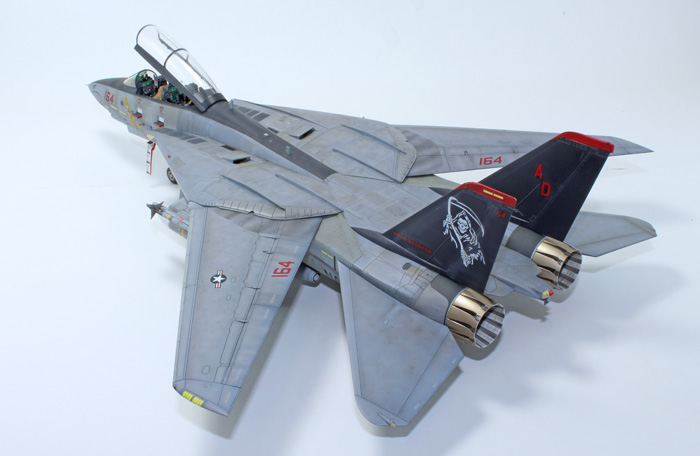 Over to you Alan…
---
I have long been an admirer of the venerable, now retired F-14 Tomcat. In my collection at home I have a few of kits, but have not found the time to build them as yet. I have always been a fan of the D model aircraft, rather than the A. Possibly this is down to the different look, with the improved engines and beefier chin pods, so never really chased up one of the Tamiya F-14As when they were released in 2016.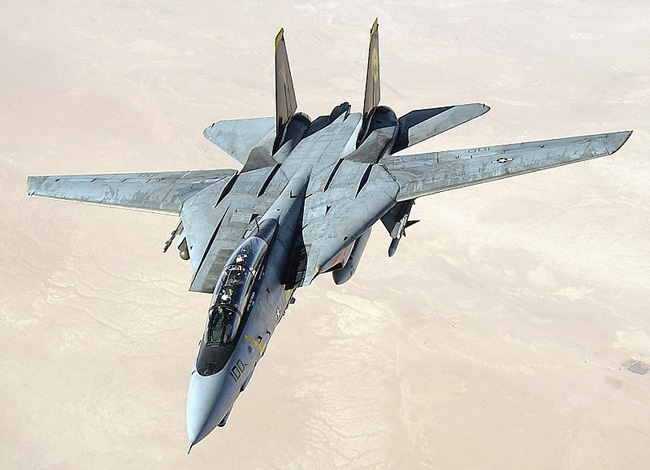 When I was asked to build the brand New D model by Geoff, however, I could have bitten his arm off to get the kit. I was extremely excited awaiting the arrival of the kit and it certainly has not disappointed. It certainly helped that my favourite marking scheme, Gunfighter 164 from VF-101 Grim Reapers 2004 scheme, was included on the marking sheet.
When I first opened the box I was really hit with that Wow factor one gets when looking upon a work of art. The word stunning does not do this kit justice. There are no bells and whistles with it, no photo etch parts or multitude of open panels, but what you do get is a perfectly engineered, accurate model of an F-14D.
Geoff had created a video in-box review of this kit in Aircraft-Here Now-Kits and that's worth a look if you haven't inspected the contents yet…
In typical Tamiya fashion, there is not a lot of plumbing and wiring in either cockpit or wheel wells but there are a multitude of aftermarket parts available if one chooses to go down the path of super-detailing these areas. For this build I wanted to complete the kit out of the box. I planned to make one addition, however, using a set of Fine Molds Nano harnesses for the two ejector seats, which I was able to source from my friend Jacek Urban, from Hinomaru Hobbies in Poland. To paint this project I will be using primarily Hataka Orange Line paints, unless otherwise specified.