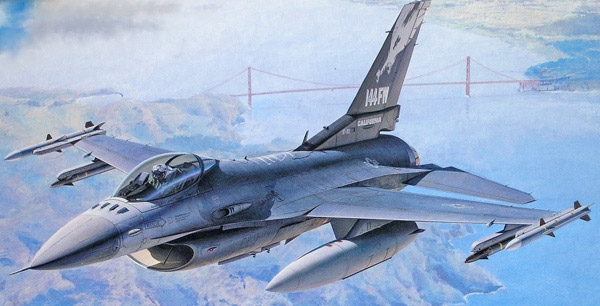 188th F W, Arkansas ANG
Feature Article with Geoff Coughlin
A note from Geoff…
Here's a project that I hope you like, completed a while back but nonetheless one that I thoroughly enjoyed and as I love the F-16 it was a no-brainer to carry out a full in-depth build of the 1:48 Tamiya kit.
Before we get started, I thought you might like to see a couple of photos of how it all turned out – this is a feature build and so I have included some aftermarket accessories, principally the Aires resin cockpit.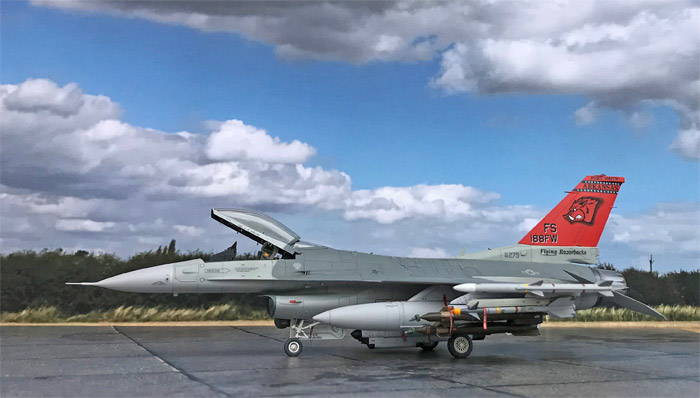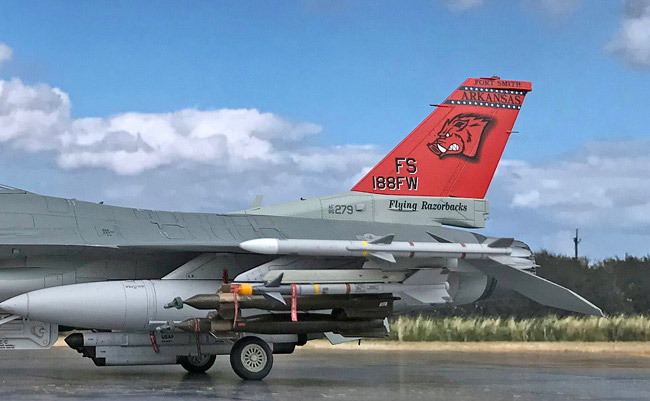 Much has been written about the F-16C over the years and the type continues in widespread worldwide service with many air forces. And so I thought it might be useful here to give a quick rundown on some features of the different Blocks? Not comprehensive, but it should give you a steer.
To ensure that the aircraft would be able to handle changing mission requirements and be equipped with the latest weapons, a Multi Staged Improvement Programme (MSIP) was commenced. F-16s that underwent the first major improvement were called F-16A/B Block 15, and they featured larger horizontal stabilisers, additional hard points on the engine intake and could carry AIM-120 air-to-air missiles.
Following the Block 15 was the Block 25, which featured more advanced avionics, cockpit displays and AN/APG-68(V) radar as well as a larger fairing at the base of the vertical stabiliser for ECM equipment. These F-16C/D Block 25s entered service in 1986.
The next stage of the MSIP saw the introduction of two different turbofan engines, the Pratt and Whitney F100-PW-220 and the General Electric F110-GE-100, with General Electric engine aircraft designated Block 32. The Block 25 and Block 32 aircraft have gone on to serve as the basis for even more advanced improvements as the F-16's development continued. They were also given upgrades such as the airframe reinforcement plates, laser-guided bombs and AIM-9X Sidewinder missiles.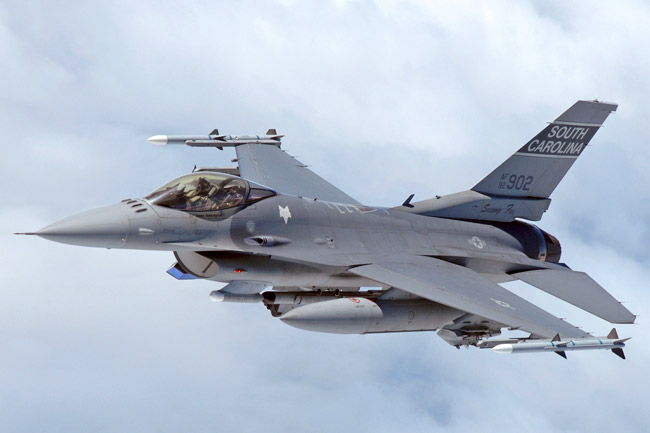 Block 30/32, 40/42, and 50/52 were later C/D versions. The F-16C/D had a unit cost of US$18.8 million (1998). Operational cost per flight hour has been estimated at $7,000 to $22,470 or $24,000, depending on calculation method.
In addition to active duty in the U.S. Air Force, Air Force Reserve Command, and Air National Guard units, the aircraft is also used by the USAF aerial demonstration team, the U.S. Air Force Thunderbirds, and as an adversary/aggressor aircraft by the United States Navy. The F-16 has also been procured to serve in the air forces of 25 other nations. As of 2015, it is the world's most numerous fixed-wing aircraft in military service. (Source: Wikipedia)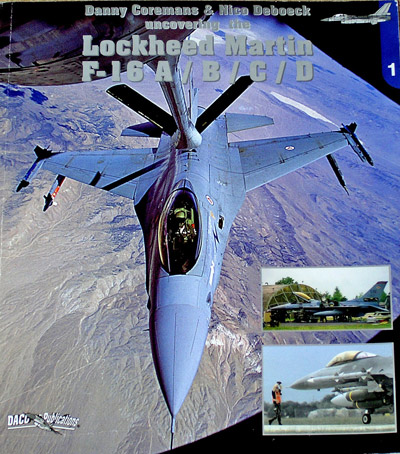 References…
Lockheed Martin F-16 A/B/C/D by Danny Coremans and Nico Deboeck – Excellent and just full of all colour mouth-watering pics of the F-16! Just a perfect one-stop-shop for a project like this :)