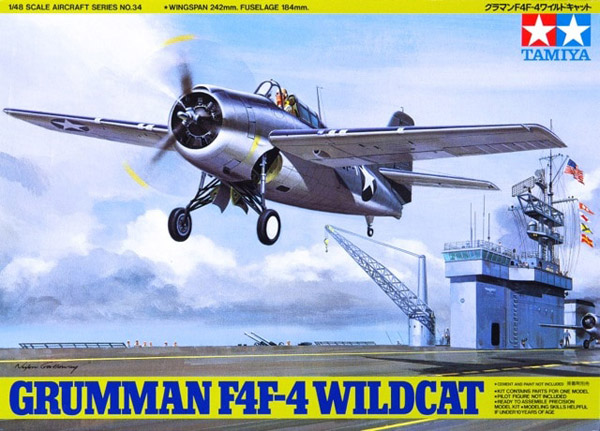 Feature Article with Geoff Coughlin
Intro and background
Always interested in something a bit different, I have always loved the Tamiya F4F-4 Grumman Wildcat kit and an opportunity for a good conversion came loomed. How about converting the base kit into a Royal Navy Martlet III? Additionally, I just love that Middle East paint scheme of RAF Middle Stone over Azure Blue and when I can across the following info – well, it had to be done, didn't it!
The first 30 F4F-3As were released for sale to Greece, after the Italian invasion in November 1940. However, at the defeat of Greece in April 1941 the aircraft had only reached Gibraltar. They were taken over by the FAA as Martlet Mk III(B). As these aircraft did not have folding wings, they were only used from land bases. They served in a shore-based role in the Western Desert. (Source: Wikipedia)
Ten fixed-wing G-36Bs were used by the FAA as Martlet III(A).
Martlet III (G-36) As Martlet I, but powered by the R-1830-S3C4-G and using a Curtiss Electric propeller as fitted on the F4F-3 and F4F-4. The cowling resembled the type used on the F4F-4 with only a single cowl flap per side, however like the F4F-3A and Martlet II there were not intercooler intakes within the cowl. A straight pitot tube was fitted on the left wing like the F4F-3.
30 built AX724/747, AX753/AX754, AX761, HK840/842 (ex Bu. No. 3875/3904). Originally ordered by Greece. The Martlet III was identical to the F4F-3A and in fact they were the first thirty F4F-3As ordered. Some sources roll AM954/AM963 (Martlet II) into this order as well (Source: Angelfire).
Here's a quick look at my model before weathering and finishing…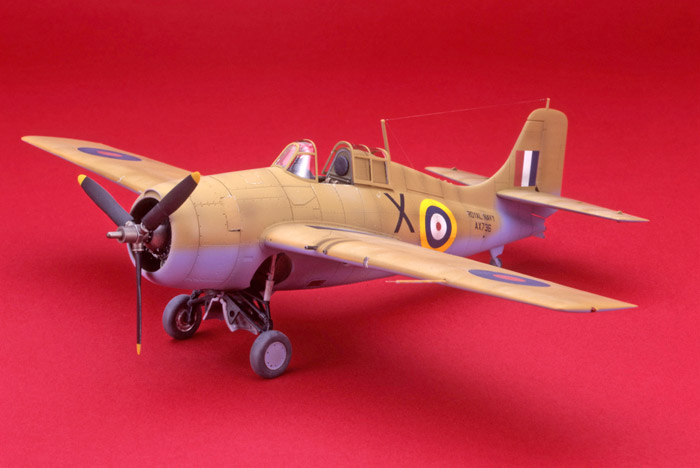 Taking on the conversion
From a modelling perspective, the main products and accessories you'll need to have, accumulate or fabricate are as follows:
Tamiya F4F-4 1:48 kit (that should be easy enough)
A set of non-folding wings. You could assemble and kit wings and then research any panel lines removal, especially the line of the wing-fold that's not required.
…another option if you can get it, is the old KMC resin conversion for this project that I had in store and so I have used that for this project. A quick search on the web as I type reveals that plenty of KMC accessory sets are coming up on e-Bay the auction site and so that, along with the modelling forums are worth a search if you want to locate these resin conversion sets
Cowl modification – one of the KMC resin sets has a replacement or you can modify the kit cowl by filling in any cowl flap joins to create one larger (longer) cowl flap on each side of the cowl. Also no intercooler intakes within the cowl
Decals – you'll need Royal Navy roundels and markings/serials and these shouldn't be too difficult to locate. You can always try a modelling supplies website like Hannants and search for the subject and or sheets of codes/serials and roundels apart from raiding your spares box! Model Alliance did a sheet that featured one of these aircraft and at the time of writing it is currently available on the Hannants website(June 2019).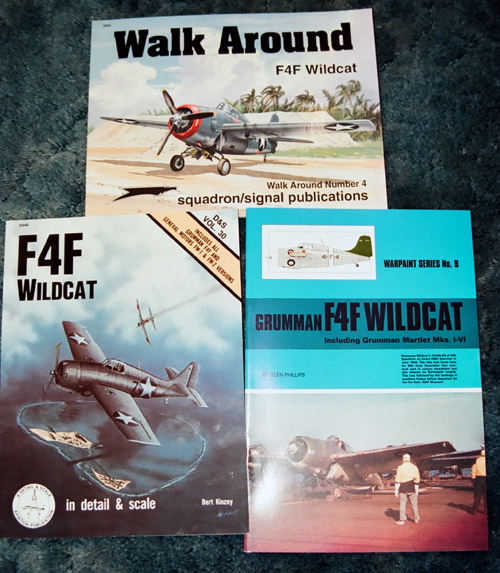 References
The above links can be a good start and in addition, I found the following books in my library helpful too:
F4F Wildcat Walk Around No.4 (published Squadron Signal)
F4F Wildcat Vol.30 (published in-detail & Scale)
Grumman F4F Wildcat Warpaint Series No.9.