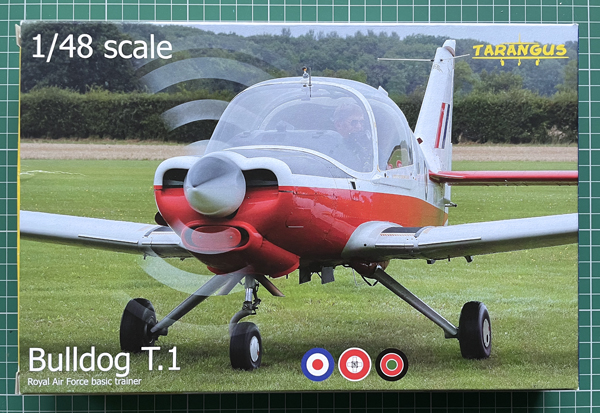 Full Review with Geoff Coughlin


---
VIDEO DEMO
---
The Scottish Aviation Bulldog T.1 has always been a favourite of mine – come to think of it, most RAF training aircraft post WW2 for that matter. Years ago I built the lovely little 1:72 kit released by Airfix and now we have a very presentable 1:48 scale kit that will please many of you I'm sure.
Let's take another look at the kit…
---
VIDEO DEMO
---
See also my Here Now review of this Tarangus kit in the usual place in SMN – Aircraft-Here Now-Kits.
As you can see, what you get in the box is pretty good, especially for a smaller kit manufacturer. We'll need to find a seat harness from somewhere and I'm working on that. In addition some instrument faces (decals) will be needed and I think I have some from Airscale that could work – we'll look more closely at that soon.
I do love the lines of the Bulldog and the aircraft has a special place because my brother Chris flew solo in one when learning to fly at Bristol University Air Squadron based at Filton, UK back in the late 1970s/early 80s.