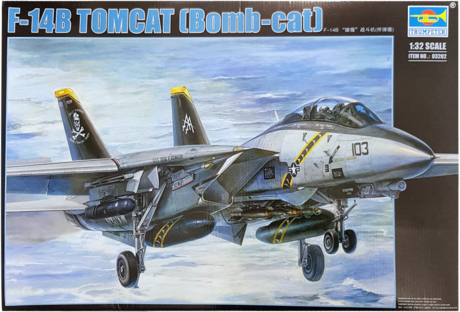 Full Review with James Ashton
---
A note from Geoff C…
Great to welcome James to SMN and to be able to follow the build of his epic Trumpeter F-14B 'Bomb-Cat" in 1:32. We're all really looking forward to what you do with this 'super-kit'!
Just before I hand over to James, do take a look at the Trumpeter-Finished Now page where you'll find builds of the F-14D variant of this kit – and very nice they are too and so it's great to be able to see how the 'B' version builds up now :)
Over to you James…
---
Kit: 03202
It was 1976 when I first got my hands on my first kit of this amazing aircraft. Star Wars was looming on the horizon and the F-14 seemed like something from a Science Fiction movie. I can only remember the box art from the Airfix 1:72nd kit and not much else as to how the kit went together.
Here we are forty three years later and my view of the 'Tomcat' has still not changed, what a fantastic shape this aircraft is even today. We have recently had a spate of F-14's in all the major scales and of very high quality modern tooling. Of particular note are the Tamiya kits in 48th scale. In 1980/81 respectively Tamiya and Revell both released kits in 1:32nd which are now both in need of an upgrade.
Never ones to shy away from producing large scale kits of desirable subjects Trumpeter stepped up to the mark in 2010 with the release of three variants the F-14 A/B and D. I am going for the 'B' variant, known as the 'Bomb-cat'.
When you open the box and see the copious amount of weapons available to load this model with you will understand why it was given this moniker. The other attraction is that I have always associated the Tomcat famously with the 'Jolly Rogers'. Forever etched in my memory by the 1980 film 'The Final Countdown' which I stayed in all day and watched three times at my local cinema (which they allowed you to do back then).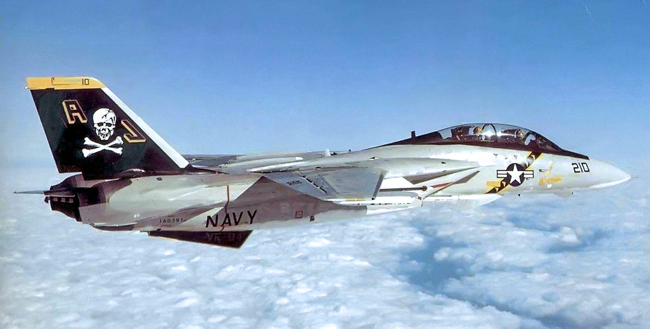 So with all this nostalgia to motivate me I opened the huge very well filled box and began un-bagging the substantial amount of plastic. At first it is quite overwhelming as you try to come to grips with all the parts before you, most notable of which are the two main fuselage halves. All the sprues are logically presented with areas such as the cockpit on one the undercarriage parts on two sprues and so on. This means I am able to take each section of this modular kit and box them into individual packages, enabling me to handle the different sections easily on my workbench instead of wrestling with large sprue trees.
When I took stock of all the little boxes before me filled with hundreds of pieces the irony struck me that I said I was building this kit out of the box. My goal is that this model is going to be displayed with as much detail on show as possible and boy are there lots of opportunities to do this. This does however bring me to the subject of what we now call over-engineering of kits. Trumpeter do have a habit of giving us a lot of details that in most builds of this kit will not be seen, a point in case are the two very nicely detailed engines. Not that you cannot have them on display as there are two removable panels on the underside, in this instance though I will be loading everything onto this model which prohibits this. Also the two panels are not easy to put into place in the closed position and this makes for some work to maintain the smooth flowing curves of the underside without a small step.
I feel that perhaps it would have been better to mould the lower fuselage halve in on piece and add some more details to the other areas. Such as the cockpit, avionics bay and the radar. Although I stress that this is not a flaw but rather a little personal niggle I have.