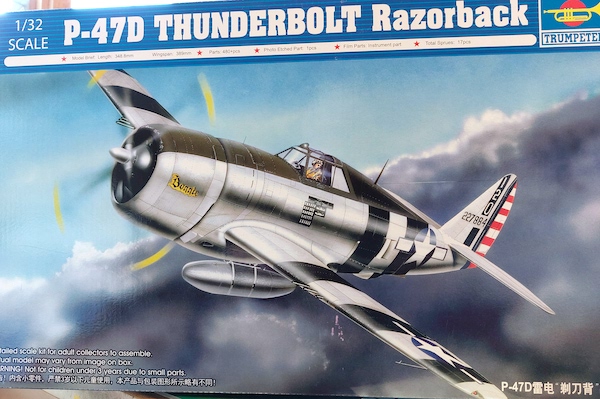 Feature Article with Rob Ruscoe
Enough has been written already about the P-47 to try and give more than a potted history here. Sufficient to say that this big eight ton fighter belied its portly looks, to become one of the most effective Allied fighters of the Second World War. Its excellent high altitude performance was provided by a Pratt & Whitney Double Wasp engine coupled to a highly efficient turbo-supercharger mounted in the rear fuselage which, along with its extensive pipework and ducting, gave the aircraft its pot-bellied appearance. The main drawback with the P-47 was its lack of range which, even with the use of a drop tank, was limited to around 900nm. This meant leaving the B-17s and B-24s to fend for themselves against most targets in Germany. This situation was only remedied by the introduction of the long range P-51 Mustang.
The Thunderbolt could now be utilised more in a ground attack role – and for this it was to prove very effective with its battery of eight .50 calibre Brownings and also the capability to carry bombs and rockets. With its rugged airframe and air cooled engine, the P-47 was also able to survive surprising amounts of damage and still bring its pilot home.
Just before we get started, here's a look at how it all turned out…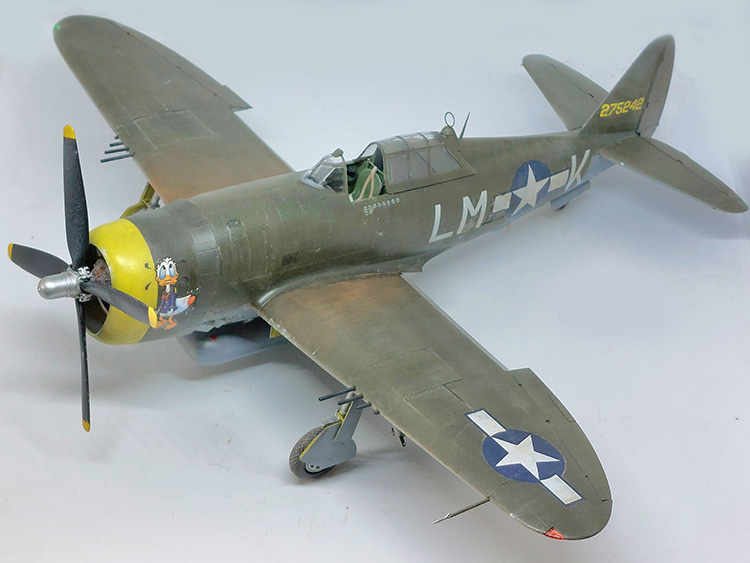 The Kit
This kit dates from 2007 which was a time when Trumpeter models were very much slightly hit and miss in fit or accuracy. This offering is one of their better efforts I'm glad to say. I did build the low-back version some years ago which I remember went together rather well. I never got around to building the razorback until I was able to acquire this kit for less than forty pounds on an internet auction site. If this wasn't enough of a bargain, the box included some aftermarket items which included an Eduard LooK instrument panel, resin wheels and a pair of rocket launchers. All these were intended for the Hasegawa kit and would need some modification to fit the Trumpeter offering.
The usual stout box contains 14 sprues of flash free grey styrene, two sprues of (very) clear parts, a clear moulded engine cowling, single PE fret, three vinyl tries, a film for the instruments and two decal sheets for two options. The instruction booklet is in Trumpeter's usual clear style with 29 stages of construction.