Full build review
By Aaron Scott
A note from Geoff…
Here's your link to the Zoukei-Mura Ho 229 Horten 1:32 Here Now box review I have done so that you can see all the sprues and my in-box assessment. As I write these words we are all just about recovered from the excitement of the huge IPMS (UK) Telford Scale Model World show in the UK – what an awesome event this is and I urge anyone of you who haven't visited it yet or not for some time to do so – there's nothing like it anywhere in the world!
If you dropped by the SMN stand you will have seen Aaron's almost completed model that was so hot-off-the-press that we haven't any pics to show you here but I can tell you that you're in for big treat – what a great-looking model he's created in that Uschi wood veneer decal on one side and exposed internal detail on the other – stunning!
I can reveal that this model is definitely the best yet in terms of fit and so what follows is the full story showing you all that this kit has to offer, plus of course some great insights and advice on your own build.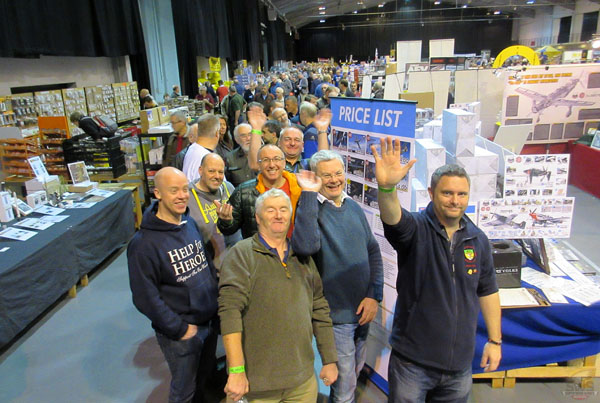 Photo: Some SMN Review Team suspects here queueing at the ZM stand: Andy Goodwin in the Help for Heroes top; Aaron Scott just behind and to the right as you look – he wanted another one! And Dave Coward wearing glasses and yellow jacket lining.
It's amazing that at the SMW show there was over an hour waiting time in the queue to buy one of the new ZM Ho 229 kits – the guys had sold out of all stock on the Saturday and I'm not surprised looking at the quality of the finished model.
So, thanks again Aaron for an amazing job and all the hours you put in to get your Ho 229 model ready for SMW – outstanding contribution ☺