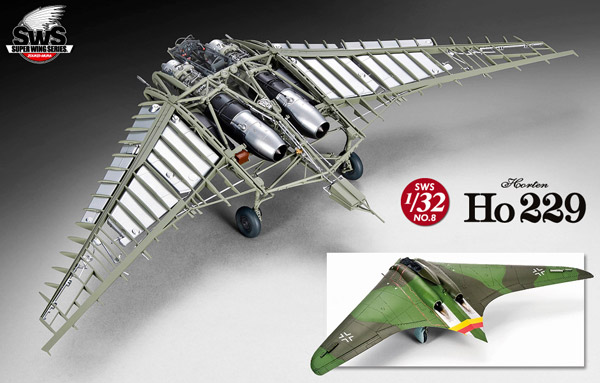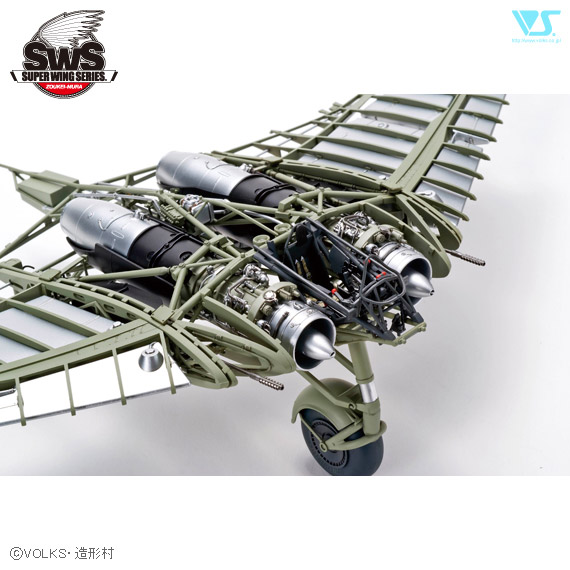 Feature Article with George Johnson
The Horten Ho-229 was a German prototype fighter/bomber initially designed by Reimar and Walter Horten to be built by Gothaer Waggonfabrik late in World War II. It was the first flying wing to be powered by jet engines.
The design was a response to Hermann Göring's call for light bomber designs capable of meeting the "3×1000" requirement; namely to carry 1,000 kilograms (2,200 lb) of bombs a distance of 1,000 kilometres (620 mi) with a speed of 1,000 kilometres per hour (620 mph). Only jets could provide the speed, but these were extremely fuel-hungry, so considerable effort had to be made to meet the range requirement. Based on a flying wing, the Ho 229 lacked all extraneous control surfaces to lower drag. It was the only design to come even close to the 3×1000 requirements and received Göring's approval. Its ceiling was 15,000 metres (49,000 ft).
The airplane was comprised of a steel tube frame for the central section that housed 2 Jumo 004 jet engines, and the pilot who sat in an air-powered ejection seat. The wings were of wood construction and the entire plane with the exception of a few parts, was clad in plywood. The Horten Brothers also experimented with radar absorbent materials consisting of carbon particles mixed in the wood glue.
The only surviving Ho 229 airframe, the V3—and the only surviving World War II-era German jet prototype still in existence-has been moved to the Smithsonian National Air and Space Museum's Seven F. Udvar-Hazy center and is on display in the main hall, alongside other WWII German aircraft.
This project
I started this project back in February of 2018 not knowing where it was going to lead. I had seen a couple of photos on the web of the finished model and immediately felt like it was the the type of challenge I like. The models I especially liked were the ones showing unpainted plywood. The only problem, I thought was that they looked like they had been varnished to either look like furniture or WWI airplanes. I wanted mine to look as though it had been under construction years ago and had sat around collecting dust.
References were few and I found a few photos taken at the Smithsonian Air and Space Museum while the plane was being preserved. These provided a good starting point. I also found a few period pictures on various websites, but everything was grainy and fuzzy. But, at least I had a direction.
Little did I know at the time the direction I'd be heading in.