1 | 2 |3 | 4 | 5 | 6 | 7 | 8 | 9 | 10
Feature Article by Geoff Coughlin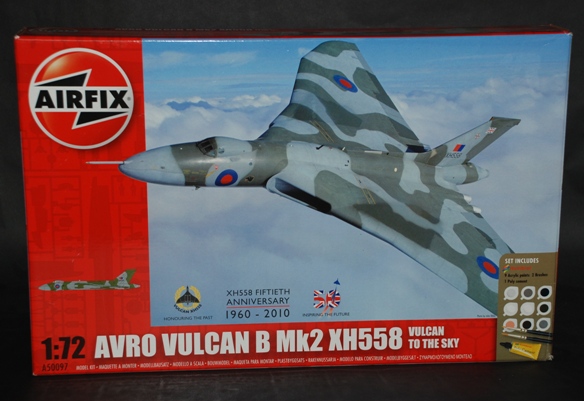 Our thanks to Airfix for supplying our sample. Buy this kit now at: www.airfix.com
Well just look at the box art will you? I mean, how inspiring is t
hat? Another great boxing from Airfix. However… that wasn't my inspiration for this build at all, it was the release from The Aviation Workshop Publications Ltd of their excellent title "V-Bombers, Britain's Cold War Deterrent". Now inside that book that's just full of stunning profiles and images of Britain's finest, you'll find an amazing set of profiles for Avro Vulcan B.2 XM607, 44 Squadron, RAF Scampton, Lincolnshire, 1977 (Deployed to Red Flag 1977 at Nellis AFB, USA). The Dark Earth and Middle Stone disruptive camo scheme applied to the undersides just did it for me – it had to be built!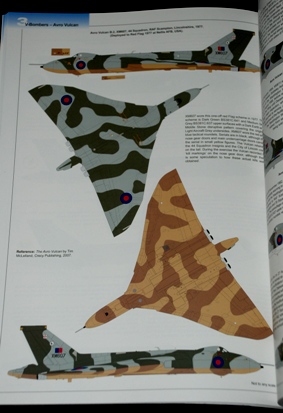 So, our Vulcan kit duly arrived and it was straight into the box to see what Airfix produced way back in 1983 when this kit was tooled. To be honest I never actually got to build this one when it first came out but it wasn't going to escape me this time.
A full Here Now review will be forthcoming shortly in that area of SMN but for now it's into the build…
To be honest, I love the quality of the plastic Airfix is currently using in their kits – it glues and sands really well and can be easily re-scribed too and that will become helpful as you'll see later.
The aim of this build…
Well to be honest, this definitely isn't a detailed review of what's on offer in the box, although you'll clearly get quite a bit of that from me as we progress through the build. No, my aim here is to really try and show this particular paint scheme off to the full and end up with a convincing, weathered airframe that is sporting something completely different, so here we go.