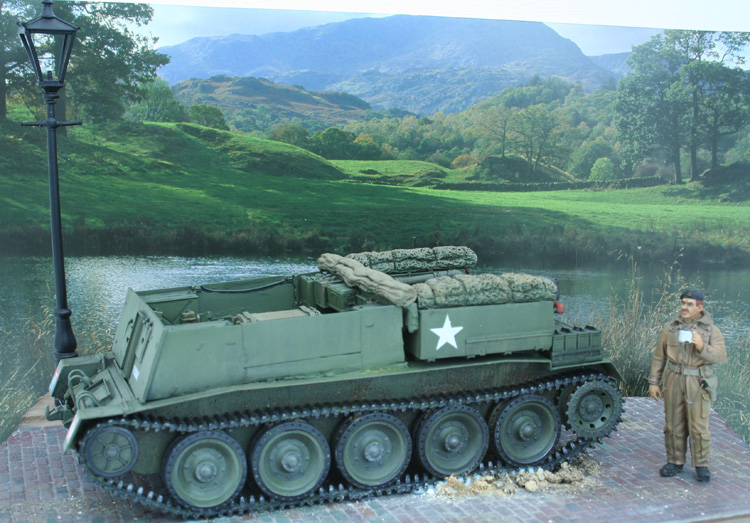 Special Feature Article by Steve Noble
A quick note from geoff…
Here's another of the great conversion articles by Steve Noble showing how to convert the Crusader tank into any number of specialist variants. You'll find some others in Armour-Finished Now so do check those out!
In this feature, Steve shows how he converted the Italeri and Accurate Armour kits to create one unique version of the Crusader – above you'll find a sneak peek showing his completed project – nice, isn't it?
---
Over to you Steve
The Crusader tank by 1942 was obsolete. Used for a number of ancillary roles it found a use as an artillery tractor to pull the heavy 17 pounder quick firing anti-tank gun.
Any Italeri Crusader tank kits can be used as the base donor kit. To convert it to the tractor version the Accurate Armour (AA) conversion kit was used. The key to a successful build was to carefully read the AA instructions. The instructions advise that the kit is built as sub-assemblies which are detailed but lack a clear order in which to follow.
The build was planned with the order of assembly planned being:
Hull and deck
Driver's compartment
Load pack
Crew superstructure
Deck stowage
Running gear and tracks were assembled as single removable assemblies for ease of painting although this is not essential
Fitting the painted driver's position and load pack
Fitting the crew superstructure and painting all external parts
The critical point of the build was that the crew superstructure could only be fitted with all interior assemblies in place as finished items. In practice work was progressed on all of the sub-assemblies throughout as they were required for dry -fitting together.