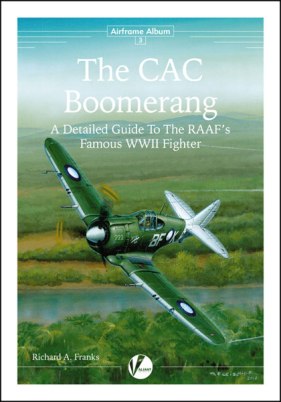 Author: Richard Franks
Publisher: Valiant Wings Publishing
Price: £15.95 GBP plus P&P
Review by: Geoff Coughlin (Aug 2013)
100 pages, softback, high quality art paper
Our thanks to Mark at Valiant Wings Publishing for supplying our review sample… Get this impressive title here now
Airframe Album No.3: The CAC Boomerang – A Detailed Guide to The RAAF's Famous WWII Fighter by Richard A. Franks
This, the third title in the Airframe Album series, covers the Commonwealth Boomerang, and provides an excellent contrast to the previous releases:
The Heinkel He 219 and
Hawker Sea Fury
The Boomerang has proved to be a popular subject with scale modellers in recent years with kits available in all major scales from Montex (now re-released by AlleyCat), Special Hobby and Airfix.
Contents include:
A wealth of historical and modern photographs
Pictures before, during and after restoration
Isometric views by Jacek Jackiewicz
Colour profiles and camouflage detail by Richard J. Caruana
100 pages
Lists of all Boomerang kits, accessories and decals available in 1:32nd, 1:48th and 1:72nd scales
What do we think?
Yes, a good publication and an impressive addition to what is a very useful series of reference books for scale modellers. The quality of production is high; images are comprehensive too covering the internal and external features of the type. These are supplemented with period manual images and photographs to add to those of the restored example as indicated above.
One of the best sections in the title is the one covering all the differences between the various pre and production examples of the Boomerang and there are many.
The colour profiles towards the back of the book are good and there are now upper and lower colour profiles for the camouflage pattern diagrams showing the schemes clearly – a big improvement on the Uhu title for example, although that is still an excellent title.
The end of the book identifies and shows just about all the model kits and accessories available now or previously for the Boomerang and will be helpful when considering what to buy, whatever your chosen scale.
Highly Recommended
Geoff C.
Where can I get it?
Airframe Album No 3- The CAC Boomerang – A Detailed Guide to the TAAF's Famous WWII Fighter by Richard A. Franks retails at only £15.95 per copy + postage and packing, and is available from all good hobby stores, specialist bookshops and ADH Books.


Orders can also be made via the Valiant Wings website, www.valiant-wings.co.uk , by 'phone on 01234 273434 (+44 1234 273434 if calling from outside the UK) or by writing to:
Valiant Wings Publishing
8 West Grove
Bedford
MK40 4BT