Author: Laslo Adoba
S B S Books Harva – d design studios
ISBN 978-963-06-8515-3
Purchased from: The Aviation and Military Book Centre
Price £11.99
Reviewed by Bill Curtis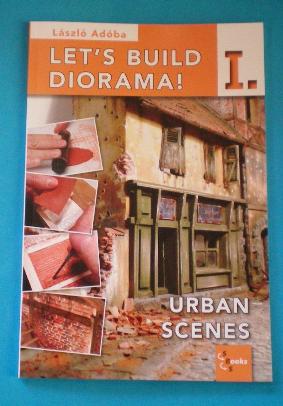 This book is 140 x 210mm containing 62 pages and in the intro the author says the book is for beginners, but I think all levels of expertise will find this volume of interest.
The whole book is divided into four main sections describing materials, tools, planning and the base followed by how to make buildings, pavements and the roadway.
The building – is divided into chapters on walls both brick and stone, inner walls and floors with there coverings. Also in this section the doors and windows are shown with its associated metal work and glazing.
The roof – is divided into roofing, tiles and guttering with text and photos to illustrate each stage of construction. The last section is for the pavement and the roadway with the pavement being shown how to construct and damage to show an old worn item. The roadway is shown as a block construction and the sequence follows the build from making the blocks, laying, grouting and finishing them.
Urban scene – The author takes you through the stages for building a diorama of an urban scene with explanations and lots of photographs, about 250 in full colour. The materials used are mainly items which can be obtained reasonably cheaply from do it yourself stores or arts and craft supply outlets which in these times of austerity should help to conserve some hard earned cash. This book is not a showcase, more of a diorama construction manual and as the author says that he was limited by the size of the publication, two further volumes will follow; the next on the natural world and the last on the small items that bring a scene to life.
I have built dioramas for some years and was so impressed with this small book that I've ordered the next volume on the natural world and if it's as good as this I will not be disappointed.
Very highly recommended
A note from the author about the glass glue referred to in the text:
Thank you for the nice words, Bill. I hope you will find the book really useful. The glass glue is sold in Hungary under the label of F.BS and it's used to glue aquariums for example or as a filler in places exposed to direct water (not vapour or moist). It can be obtained either in white or in transparent version. When you glue it it's soft, creamy, but cured to a rubber-like substance.
Happy modelling!
László Adóba