Volume:
Issue 10 Water
Issue 12 Styles
Issue 13 Desert
Price €8
Review by Geoff Coughlin (November 2015)
Our thanks to Ammo of Mig Jimenez for supplying our review samples. Get these impressive titles here now at www.theweatheringmagazine.com
Water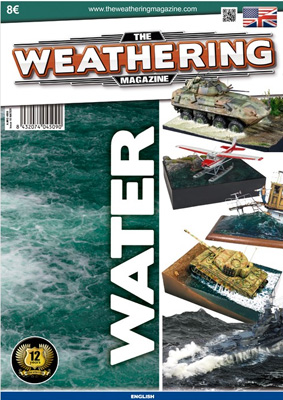 Pages: 62
Paper: high quality glossy art paper
Full colour throughout
ISSN: 2340-289X November 2014
SMN Star Rating *****
Value for money: excellent
Articles by:
Beneath the Baltic (heavy seascapes plus…): Chris Flodberg
Rotten to the Core (rust effects): Iain Hamilton
Lav Taking a Bath (armour and water): Sergio Fenoy
Reflections (transparent water with depth): Jean-Bernard Andre
The Crossing (armour emerging from water): Diego Quijano
A Country Lane (country stream): Rodrigo Hernandez Cabos
The Hunters, Lovers & The Weeping (trees): Javier Soler
Puddle Jumper (aircraft floatplane on water): Rick Lawler
Styles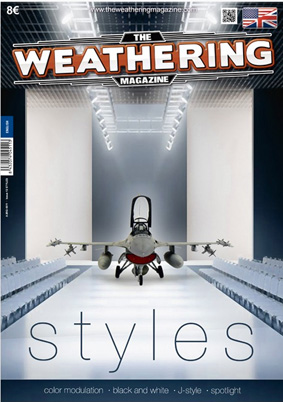 Pages: 69
Paper: high quality glossy art paper
Full colour throughout
ISSN: 2340-289X June 2015
SMN Star Rating *****
Value for money: excellent
Articles by:
Imperial Army: Type 5 CHI-RI (black & white technique): Jose Luiz Lopez Ruiz
Messerschmitt 262 (paint patterns & textures): Bera Karoly
Firelight (Bold colour, bright light, dark shadow): Jean-Bernard Andre (JBA)
Greek F-16 (realism to the extreme!): Jamie Haggo
The Sherman Exercise (colour modulation): Carlos Cuesta
Bring it On (fantasy & Sci-Fi drama): Tamaki Maekawa
Desert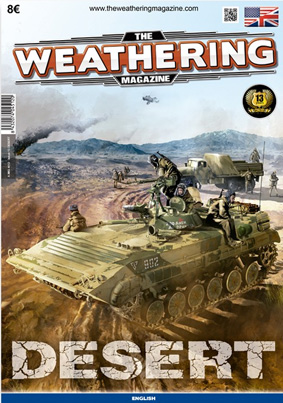 Pages: 70
Paper: high quality glossy art paper
Full colour throughout
ISSN: 2340-289X September 2015
SMN Star Rating *****
Value for money: excellent
Articles by:
Desert Fox (dust, grit and heat effects): Martin Siska
What Freedom (rusted hull in desert: Jean-Bernard Andre (JBA)
In a Desert, Far…Far…Away (Landspeeder): Robert Aguilera
New Dust Technique (dusty surfaces): Mig Jimenez
"Chivalrous in War, Vigilant for Peace" (figure): Juamme Vergara
Desert Patrol (MS-06 Zaku II desert warrior): Oishi
The Road Warrior ('Mad Max' vehicle): Diego Quijano
Comments
This is an exceptional volume giving plenty of photos and some helpful text to encourage you to have a go at the techniques on offer. Mig and the team have assembled some of the very best scale modellers who regularly use these useful techniques and the results speak for themselves.
The contents and descriptions above will give you a very good flavour for the range and depth of techniques covered in each issue and I have to say that I was captivated from start to finish (not easy, believe me!). I just love each issue and it's clear that a subscription to gather the full collection will pay dividends over the long term as you will have assembled an stunning reference of 'how-to' material to refer to.
A truly excellent range of publications and what a series – simply go out and get it!
Some photos from each Issue are included above to give you an even better idea of the quality on offer.
Geoff C.