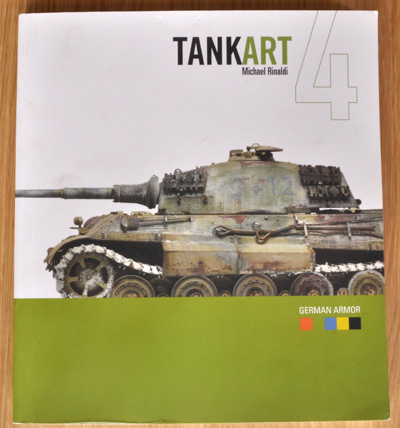 Rinaldi Studio Press
Author: Michael Rinaldi
Soft cover
ISBN. 978-0-9883363-4-6
Format: English text, Full colour, size 81/2" x 91/2", 224 pages.
Review by Bill Curtis
Initial assessment
I have waited a long time for this volume and the wait has been well worth it.
The format of the book is the same as previously with great text and stunningly large clear colour pictures illustrating the techniques and model builds with orange text boxes that highlight the processes.
This volume consists of the following:
1) Introduction
2) Technique Proficiency
3) Winter Whitewash
4) SdKfz 162 Tiger II
5) SdKfz 164 Nashorn
6) SdKfz 138/1 Grille Ausf. M
7) Sturminfanteriegeschutz 33B
8) Mario Eens PzKpfw B2 740(f)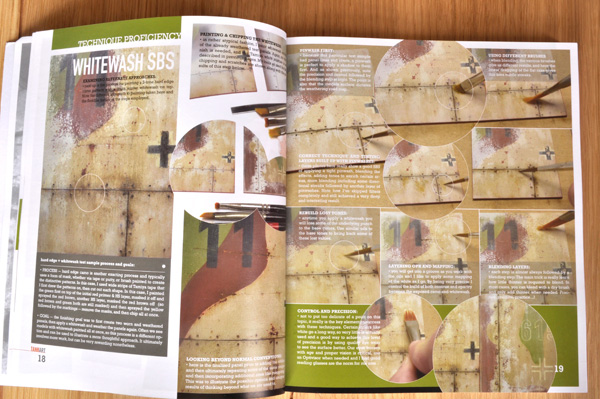 Technique Proficiency, this to my mind is the crux of this volume as it explains the reasoning of refining, practicing which leads to improving techniques and consequently better models. As Mike says it's not the myriad of products but how the modeller uses them to create the finished model that's key.
This chapter is devoted to various techniques, pin wash, blending, Hair Spray, SBS three different whitewash application and three different Panzer greys which challenges the reader to be more flexible in approach and application of the various processes while producing a realistic end result.
Winter Whitewash is one of the most difficult to recreate and this chapter shows how to achieve this in three different scales and Mike points out that these are not scale dependant. The first model is in 1:72scale, Pz IV Ausf F1, from the first winter of Operation Barbarossa and shows a more even coverage in SBS photos and captions explaining the multiple layers to end with a very realistic finish.
The next is a 1:48 Hetzer which starts life in a tri-colour scheme and then over painted and weathered with a worn white coat. SBS photos accompany the text showing the application of the worn appearance.
For the 1:35 scale we have two models the first being a zimmerited Elephant showing a complex white washed finish with mapping pushing the techniques further and obtaining a realistic finish.
The last model is a recreation of a Stug II Ausf. B, from the photographic evidence taken in Russia in the winter of 1942-43. The replication of detail is applied with as much accuracy as possible mirroring the actual scrapes, shapes of the paint, chips and all other effects. This is def a model that deserves a long look at as one can learn a lot from it.
This chapter doesn't depict actual techniques rather showing the effects and different ways of getting a realistic result.
The next part of the book covers five vehicles over approximately 40 pages with a lot of picture to illustrate the points raised throughout the various builds.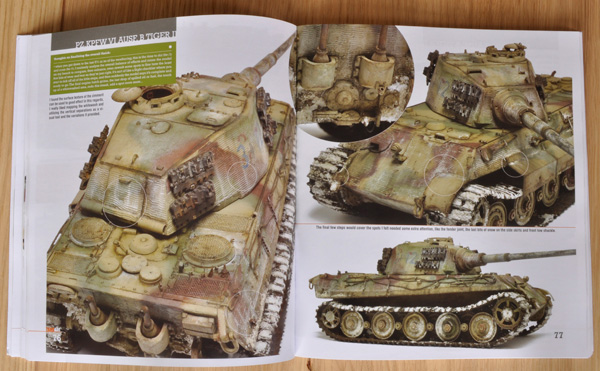 As with the previous three volumes the next section depicts four 1:35 vehicles starting with a King Tiger which was collaboration with a build completed with Daryl Dancik. This is a vehicle coated in zimmerit in the Ardennes battles and mikes efforts to make a close as possible accurate scheme including the weathering is a master piece of restrained weathering and attention to detail.
The next model is an open topped Nashorn which increase the work load two fold as the inside needs detailing and of course painting and weathering. The exterior is painted in a disc camouflage weathering being done with oils, pigments filters, pin washes and all the other methods he uses to bring out the least detail and this includes dry brushing.
A grill Ausf M is another open topped vehicle and is worked from the inside out which means that the inside is super detailed, painted and weathered before applying a three tone camo scheme, which is followed by weathering using OPR (oil paint Rendering) and Pin wash, filters, fading, stains, rust chips and oil leaks. Again the attention paid to each stage build in layers to a final completion which makes a realistic model.
Mikes last model is a Sturminfanteriegeschutz 33B in panzer grey with a great deal of painting and weathering which makes the mono tone finish much more interesting with layered paint chips, colour shift, pin washes and layering. White wash was used and distressed.
The last model is a Char B1 Bis, German designation PzKpfw B2 740(f), being presented by Mario Eens as a guest author who has a definite style. He paints the vehicle in a panzer grey with dry-brushing, pin washes, filters, modulation, high light, paint chips streaks and grime all of which gives depth to the vehicle.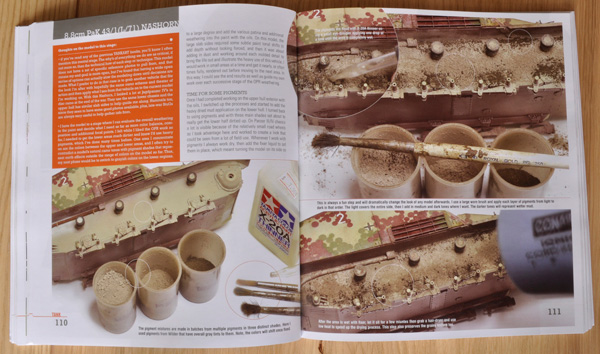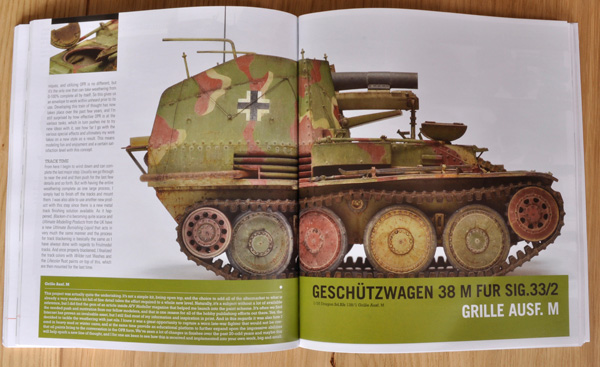 So what do I think of this latest edition?
The subject matter is more complex than prior editions and the focus is on the thought processes of how and why of the various steps which will hopefully lead the reader to produce a more realistic model that tells a story in its own right.
When you pick up this book, I feel that you will have a job putting it down as Mike's narrative is very informative as well as a great read.
I like the SBS photos at the end of each vehicle but more than this by explaining in detail the model finishing principles and technique proficiency.
A must have book for any armour modeller.
Bill C.
Copy bought from:
http://www.rinaldistudiopress.com
Price can be seen on above link