Author: Dariusz Karnas
Published: Published Stratus available in UK from Mushroom Model Publications www.mmpbooks.biz
Polish Wings Series
56 pages profusely illustrated throughout, mix of black and white and colour images plus colour all-aspect profiles of types featured. English text throughout.
Availability: See www.mmpbooks.biz and www.stratusbooks.biz
Our thanks to Stratus – Mushroom Model Publications for supplying the review book
This is the ninth title in what is rapidly becoming a major reference series concerned with Polish aviation history. The connection between Stratus and Mushroom Model Publications ensures that this new title has the scale modeller in mind and the book doesn't disappoint at any level.
The SU-7BM, Sukhoi SU-7BKL, SU-7U and Sukhoi SU-20 were major types in the Polish Aviation Regiments and until now quality reference for the types has been sadly lacking. The overall silver schemes applied to most Su-7BM aircraft are well illustrated as are the brown/green camouflage patterns applied to the later SU-20 machines. All make excellent and attractive schemes when applied to scale models from the likes of Kopro and others. Indeed, the availability of a good range of kits and accessories, especially for the Su-7 makes this new title even more appealing.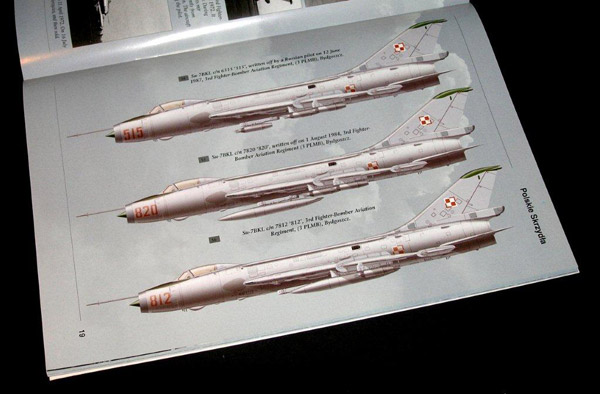 Layout is clear and straightforward, taking each variant of the type and including relevant descriptive text and images. Probably the best features for me are the inclusion of full colour all-aspect drawings and profiles, plus, of course, those full colour images. The latter vital to the modeller to help us get that weathering and 'look' of our finished models just how we want them.