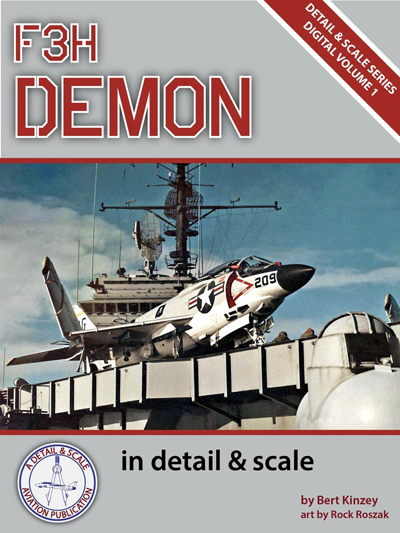 In Detail & Scale book for iPad, iBook, Kindle and Mac
Authors: Bert Kinzey and Rock Roszak
iPad download reviewed here – price $9.99
Review by Geoff Coughlin (February 2014)
Our sincere thanks to Bert Kinzey and Rock Roszak at Detail & Scale for supplying our download – you can see a lot more at their website and but the download is here
Introduction…
Fantastic! This is the only word I can use to sum up what we have here and you'll see why I am raving about this new 'e-book' by reading my review below and taking a look at the sample photos supplied. At last, what we have is a major publisher specialising in modelling reference books (and others) that has seen the huge value and potential of the Internet – the ability to offer you the modeller so much more for far less money than if you buy a paper book or magazine. This is exactly what SMN is all about and continues to be since we launched four years ago.
What are you getting?
Available in both Apple iBook and Amazon Kindle format
Over 53,000 words of text that provide details on the development and history of the Demon not available in any other publication
First volume in the Digital Detail & Scale series
Over 340 photographs, with more than 140 of these being detail shots that Detail & Scale is known for
More than 50 art renderings of aircraft profiles, unit logos and cockpit details
A detailed Modellers' Section discussing all of the currently available F3H kits, and what it takes to make an accurate model of this aircraft
What do we think?
Let me put some more meat on the bones…
You can see by the stats above that what you are getting is a book that's special – highly professional in content and production that 'works' exactly as it should and is simplicity itself to download. As soon as I downloaded the book to my iPad, there it was sitting on my shelf in iBooks – great and a double-tap and I was into it. My intention had been to just take a quick look and come back later; err, no… some 45 minutes later and Sara is saying – "the tea's on the table!" really, I was so quickly and totally absorbed in what is on offer I couldn't put it down. Now that is rare indeed – I see so many books but this, this is something special.
The F3H is covered in excellent depth with many useful captions and notes highlighting the differences between the sub types that will need to be considered when you making your chosen model. The tail, wings and seat are all areas that clearly cause the kit manufacturers to get confused and produce kits that will need correcting and modifying to generate an accurate model and all of these revisions are clearly illustrated in the book – excellent!
Photographs and profiles
The quality of both is extremely high and this adds greatly to the title and the addition of supporting photographs always helps to illustrate what is being discussed.
Modellers' section
The latter part of the book takes you through all the kits and accessories available at the time of writing and there are some beautifully finished F3H Demon models on show to whet your appetite. The relative strengths and weaknesses of the different F3H Demon kits is fully shown and I like that a lot – you aren't groping around trying to find the information you need for each, all is clearly in front of you.
In summary
This is the best book I have seen in a long time, by any standards a stunning reference for the type and a genuine one-stop-shop for anyone interested in the F3H Demon, its variants and models. You can just have your iPad propped up in front of you when working at you bench and merrily dip into and out of all the different sections depending on what you are working on. The price is spot on in my view and you just have to think about the $9.99 it will cost you versus the outstanding quality and quantity of content. Simply stunning and highly recommended.
If I were you, I would also go and visit the Detail & Scale website at www.detailandscale.com. There are numerous photograph sets of a variety of aircraft on display from the Detail & Scale collection.