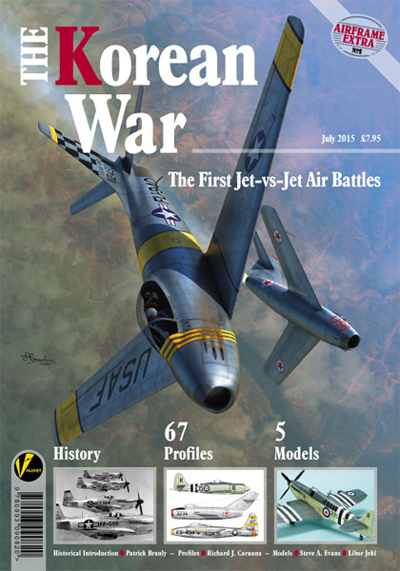 Airframe Extra No.2
ISBN 978-0-9930908-2-0
Price around £7.95 GBP
Review by Geoff Coughlin
• Covers the air conflict over Korea from 25th June 1950 to 27th July 1953
• Concise historical narrative by aviation author Patrick Branly
• Numerous period images
• Over 65 full colour profiles by Richard J Capuana.
Specially commissioned kit builds:
• Italeri 1:32 F-86F Sabre, Special Hobby 1:48 Firefly FR Mk 5 and
• Italeri 1:48 F7F Tigercat by Steve A. Evans
• Eduard 1:72 MiG-15 and Special Hobby 1:72 Seafire Mk 47 by Libor Jekl.
This is another really useful scale modelling resource, not to mention historical narrative covering some of the famous aircraft to have flown in the conflict.
Quality is good in all respects in terms of content and production is excellent. Coverage is sufficient for such a text giving you enough to put the subject aircraft in context without repeating huge volumes of material that can be found elsewhere.
I really like the profiles by Richard Capuana, always impressive and adding a lot to the whole.
Some excellent kit builds on offer here that are likely to inspire you to go away and get one of your own models out of that growing stash and build it! What are you waiting for? Check out Steve Evan's 1:32 F-86 Sabre – lovely work :)
Good value for money too.
Geoff C.