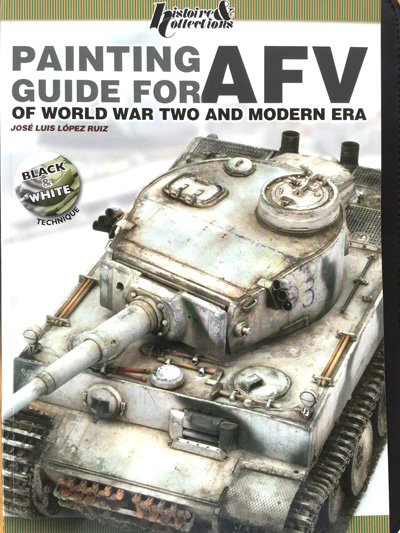 Published Histoire & Collections
Available from Casemate UK
Author: Jose Luis Lopez Ruiz
ISBN: 978-2-35250-387-3
Price around £17.50 GBP, €22.79 Euro, $25.71 US, $32.81 CAN
Review by Geoff Coughlin (June 2016)
82 pages, full colour throughout, thick artist paper with outstanding publishing quality
Our sincere thanks to Casemate Publishing for supplying our review sample and from whom you can buy this book
Jose Luis Lopez Ruiz is an outstanding armour modeller and if you are reading this review then you may already be aware of his work? If not, take time out to search on his name on Facebook and the net generally and you'll be amazed at how extensive his modelling skills are.
This title has been out about a year and I was keen to secure a copy to find out a bit more about the "Black & White' Technique that Jose Luis is well known for – quite a different approach to weathering and creating a finish that's realistic and believable.
I'm not about to go into the whys and wherefores of this particular approach, I recommend that you just buy this book – everything is explained and illustrated in good detail – as much as is reasonable and practical given the hard copy format.
Quality is simply excellent and nothing but praise on that score. Moving onto the contents, plenty of armour subjects are featured across both WWII and Modern era, just as the title suggests.
Contents addresses the following key areas:
Materials used in the book and how to use them such as: primers, paints, washes, oils, varnishes, pigments, special products
Old and new concepts for painting AFVs: your airbrush, the classical way of painting your AFVs and new variations; the Black & White technique
Examples of AFVs painted with monochrome paint: Panzerkampfwagen B2 (Flamm); BT-7; Tiger I; M-1078 and Tiran 5
Gallery
Epilogue
I especially like the use of tables on several occasions in the book for various uses such as showing paint, reference/manufacturer and uses.
This is an excellent publication that will surely find its way onto the shelves of many armour modellers – maybe other modellers who fancy trying an armour subject or developing their armour modelling skills, even if this isn't their main area of interest.
Highly recommended
Geoff C.