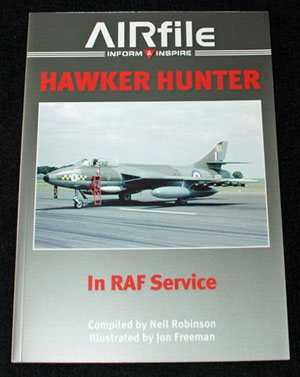 Publisher: AIRfile Publications
Compiled by Neil Robinson (AIRgen Publications)
Illustrations by Jon Freeman
92 pages – colour and black & white
Price: £23.99 GBP plus p&p direct from the publisher
P&P | UK £2.95 | Europe £6.95 | Rest of World £11.50
ISBN-978-0-9575513-2-9
Review by Geoff Coughlin (August 2014)
Our thanks to Neil and the team at AIRfile Publications for supplying our review sample. Get this great title and others here now at AIRfile Publications
Decals are also available to coincide with this publication and are available from Fantasy Printshop – here
Quick summary
A great deal has been written about the Hawker Hunter and over the years a fair amount of that material has been targeted at scale modellers and it's hardly surprising. The Type featured in RAF service for over 35 years and in many different roles. So what has this new title to offer?

What I like
This is written and presented exactly like we modellers will like and appreciate. Many variants of type from prototype through to the FGA-9 and twin-seat Hunters fill the pages with profiles in plan (mostly) and side views – excellent. There really is something for everyone in this title whatever your interest in the Hunter and whatever sub-type you like the most. Let's face it, who can fail to appreciate those graceful lines that many, including me, think is the best-looking RAF military jet-aircraft ever to have flown.
The quality of the profiles is very high and you have pretty much all the information that you'll need in the captions and text.
The foreword is by Mike McEvoy, a one-time Hunter pilot and is written is his unique, readable way that sets the scene perfectly.
Fantasy Printshop decals
You'll see from the link above that Fantasy Printshop now produce some excellent 1:72 decals for both single and two-seat Hunters and reviews of these will follow very soon in the decal area of Here Now in your SMN. These cover a huge number and variety of different Hawker Hunter aircraft and are highly recommended.
Other comments and summary
This is just what modellers like – good quality profiles, a great read and plenty of photos to help inspire a model build. So, if you like Hunters, buy this book – it's as simple as that!
Geoff C.