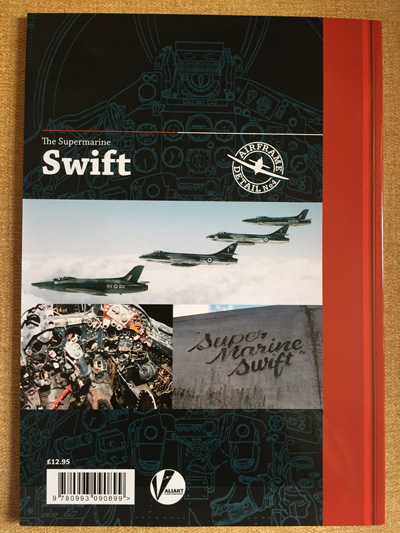 Publisher: Valiant Wings Publishing
Airframe Detail Series – 4th title
Author: Richard A. Franks
Price: £12.95 GBP plus P&P
ISBN: 978-0-993090899
Review by: Geoff Coughlin (March 2016)
82 pages, softback, high quality art paper, colour and black & white photos, profiles and drawings throughout.
Our thanks to Mark at Valiant Wings Publishing for supplying our review sample… Get this impressive title here now
Airframe Detail Series – 4th title – The Supermarine Swift – A Technical Guide
It's hard to keep up with Valiant Wings at the moment, they just keep releasing such useful and impressive titles that all modellers love. I for one am certainly not complaining – far from it! This is a classic one-stop-shop for anyone interesting in building a model of or just finding out more about the type.
The Supermarine Swift has proved to be a popular subject with scale modellers in recent years with the release of the Airfix model in 1:72 scale – you'll see from the attached photo that the kit makes up into a very neat little representation of the real thing. Sadly, we are very short of models in other scale for the Swift, yet we can live in hope I guess?
Contents include:
A wealth of historical and modern photographs
Pictures of the real aircraft
Manufacturer's photos
Colour side profiles by Richard J. Caruana
Lists of all Supekrmarine Swift kits, accessories and decals available at time of publication.
Recommended to all aircraft scale modellers
Geoff C.