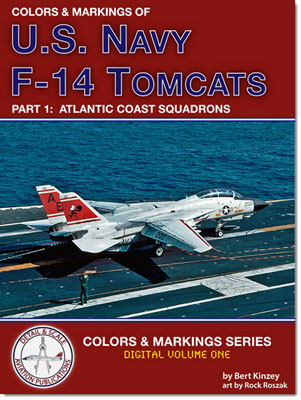 In Detail & Scale book for iPad, iBook, Kindle and Mac
Authors: Bert Kinzey and Rock Roszak
iPad download reviewed here – price $9.99
Review by Geoff Coughlin (July 2015)
Our sincere thanks to Bert Kinzey and Rock Roszak at Detail & Scale for supplying our download – you can see a lot more at their website and buy the downloads at the Detail & Scale website.
Introduction
If you have read my first two reviews of these amazing digital volumes for the F-3H Demon and F-9F Cougar in the Detail & Scale Series you'll know how good these new digital books are and now we have the first in a new series covering colours and markings – quite stunning and I do not say that lightly at all.
At last, what we have is a major publisher specialising in modelling reference books (and others like MMP) that has seen the huge value and potential of the Internet – the ability to offer you the modeller so much more for far less money than if you buy a paper book or magazine. This is exactly what SMN is all about and continues to be since we launched nearly 6 years ago (at the time of writing this review)!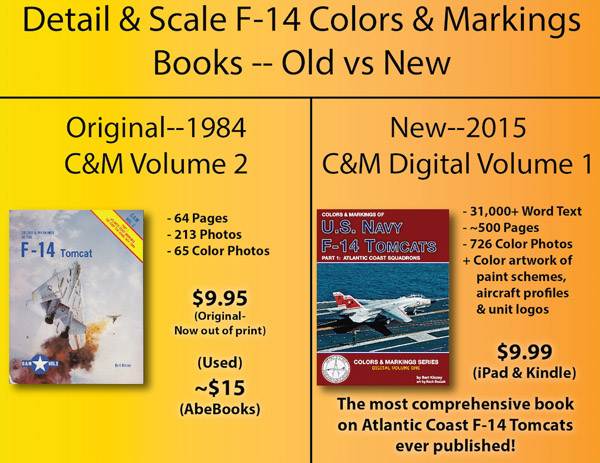 This addition to a growing series of fantastic resources
The renowned Detail & Scale Series is now complimented with a wholly new series, kicking off with this title, Colors & Markings of U. S. Navy F-14 Tomcats, Part 1: Atlantic Coast Squadrons. The book covers the three primary colour schemes used on the F-14 in detail, and provides enhanced coverage of every active and Reserve unit associated flying the Tomcat with the Atlantic Fleet, the Grumman Aircraft Company, and the various east coast Navy flight test units. Colors & Markings of U. S. Navy F-14 Tomcats, Part 1: Atlantic Coast Squadrons comprehensively covers this iconic combat aircraft – this is what you get:
Over 31,000 words of text
725 color photos
26 color profiles and 7 paint scheme diagrams.
Over the past 35 years, Detail & Scale has published six monographs, 69 full sized volumes, and, last year, its first digital-only book, F3H Demon in Detail & Scale. The Digital Detail & Scale Series now continues with this new title focusing on the famous F-14 Tomcat, the most comprehensive and detailed book ever published on this iconic aircraft from the Grumman Ironworks.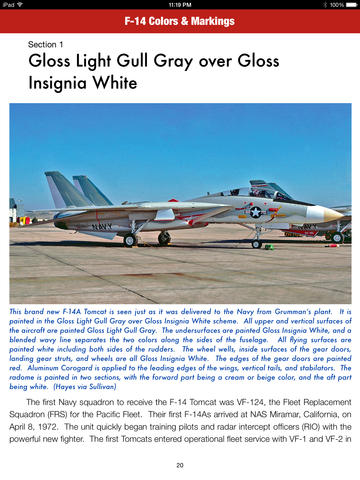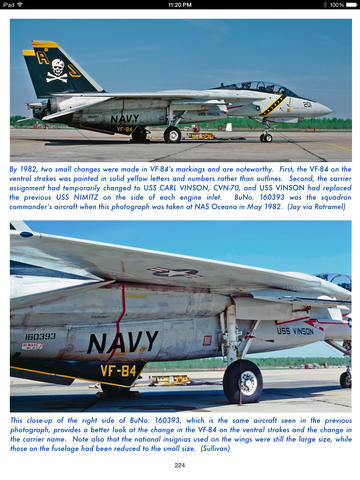 Colors & Markings of U. S. Navy F-14 Tomcats, Part 1: Atlantic Coast Squadrons is the first in a completely new series with a focus on paint schemes, colours and markings for the Atlantic Coast Squadrons.
It features:
A detailed look at each of the three official paint schemes used on Tomcats flown by operational fleet squadrons: the Light Gull Gray over Gloss Insignia White scheme; the overall Light Gull Gray scheme; and the tactical scheme, which consisted of several variations.
A chapter on the 15 U. S. Navy Atlantic Fleet Squadrons, and each unit gets a complete section with a unit history and many full color, high resolution photographs.
Coverage of the two U. S. Navy Atlantic Reserve Squadrons, which were fully combat capable, made deployments to various bases for training exercises, and conducted carrier qualifications.
A history of the Grumman prototypes and test aircraft, including a listing of all 12 prototype aircraft and their role in the development of the F-14's combat capabilities.
Coverage of the Atlantic Coast Test & Evaluation Tomcats, including the Naval Air Test Center (NATC) at Naval Air Station Patuxent River, and the "Salty Dogs" of VX-23.
Each squadron section covers the historical evolution of the camouflage and markings associated with the units covered, from the schemes and unit markings of the aircraft when the unit first transitioned to the F-14 until the squadron was either re-designated or disestablished.
Over 31,000 words of text, covering unit histories and describing in detail how each unit painted and marked their Tomcats over the 32-year operational history of the F-14 Tomcat.
Over 720 high resolution color photographs, 7 paint scheme diagrams, 26 full color aircraft profiles, and the superbly detailed captions that are the hallmark of our Detail & Scale books, all combine to make this one of the most comprehensive books every published on one of the most iconic combat aircraft of all time.
What do we think?
Let me put some more meat on the bones…
You can see by the stats above that what you are getting is a book that's special – highly professional in content and production that 'works' exactly as it should and is simplicity itself to download. As soon as I downloaded the book to my iPad, there it was sitting on my shelf in iBooks – great and a double-tap and I was into it.
The F-14 Tomcat is covered in excellent depth with many useful captions and notes highlighting the differences between the different colour paint schemes that will need to be considered when you making your chosen model. There are always details that cause the kit manufacturers to get confused and produce kits that will need correcting and modifying to generate an accurate model and all of these revisions are clearly illustrated in the book – excellent!
Photographs and profiles
The quality of both is extremely high and this add greatly to the title and the addition of supporting photographs always helps to illustrate what is being discussed.
In summary…
I thought that the Detail & Scale title was very good but this new e-book on Colors & Markings of U. S. Navy F-14Tomcats, Part 1: Atlantic Coast Squadrons far exceeds that – incredible, especially given the price. This is the best book I have seen in a long time, by any standards a stunning reference for the type and a genuine one-stop-shop for anyone interested in the Tomcat and the Atlantic Coast Squadrons that flew it. You can just have your iPad or Kindle propped up in front of you when working at you bench and merrily dip into and out of all the different sections depending on what you are working on.
The price is spot on in my view and you just have to think about the $9.99 it will cost you versus the outstanding quality and quantity of content. Simply stunning and highly recommended.
If I were you, I would also go and visit the Detail & Scale website at www.detailandscale.com. There are numerous photograph sets of a variety of aircraft on display from the Detail & Scale collection.
Geoff Coughlin, Editor