Author:  Clemens Niesner and Peter Blume
Publisher: Tankograd Publishing
Format: Soft Cover
ISBN.  N/A
Review by Bill Curtis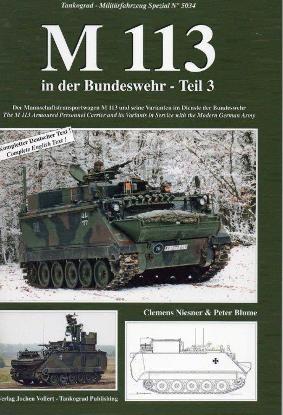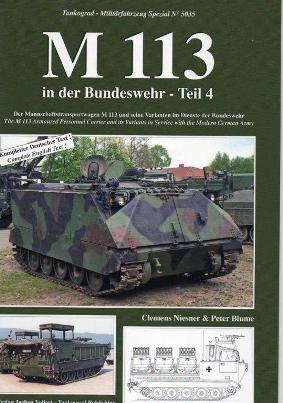 Initial assessment…
These two books arrived together and I decided to combine the review as the basic chassis is common to them all. As usual the quality of these books is very good with both German and English text printed on good quality glossy paper with both volumes of 64 pages of A4 size.
The M113 is probably the most prolific vehicle in the western armouries and has been covered in many publications but Tankograd have now published four volumes devoted to the use of this vehicle in service with the Bundeswehr.
These two volumes cover the following variants with a page devoted to its development history and photographs with accompanying text…
Volume Three:
Green Archer Mortar and Artillery Locator Radar
Artillery Observation Post
M113 A1 ABRA/RATAC Radar Carrier
Artillery Fire Control
Artillery Computer Network Carrier and the Flash      Ranging Vehicle.
Volume four:
The Lance Rocket System
120mm Mortar and Mortar Fire Control
Skorpion Mine Layer
M113 Based Prototypes
The Future of the M113.
Conclusions…
These two books will be of great use to anyone interested in the Bundeswehr be they modeller or historian. Again the photographs, the majority in colour, are well reproduced and will yield lots of detail for the modeller. I also liked the inclusion of the line drawings for some of the variants.
Highly recommended 
Bill C.