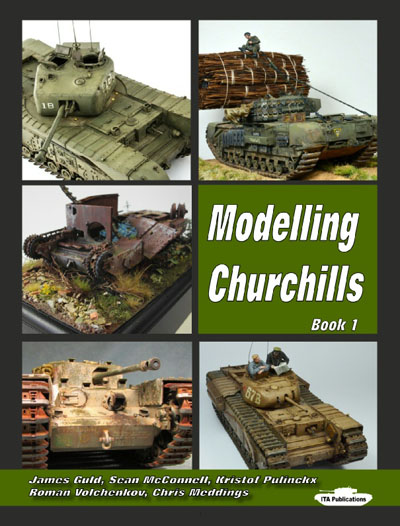 Authors: Chris Meddings, James Guld, Sean McConnell, Kristof Pulinck and Roman Volchenkov
Publisher: ITA Publications
Soft cover
ISBN: 978-0-993258-80-0
Format: English text, size A4, 108 pages.
Review by Bill Curtis
Our sincere thanks to Chris M at Inside The Armour for supplying our review sample. Get this book and a lot more at Inside The Armour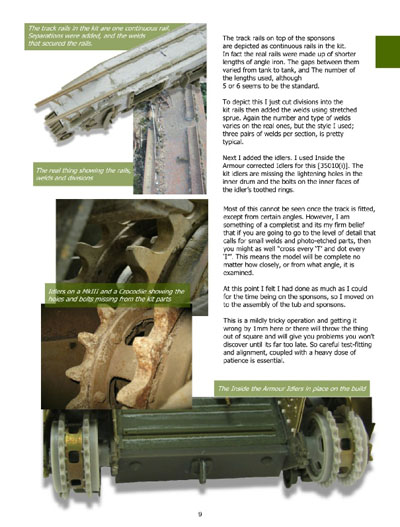 Initial assessment
This book is the first from Inside The Armour focussing on 5 different Churchill tanks with a very detailed look at each with archive photographs and copious clear colour pictures throughout the publication which is produced on good quality paper. A nice touch is the inclusion of a set of decals that covers the five builds in the book and they look to be of the same high quality as the book.
For a small company to produce a book is no small undertaking that often requires sponsorship and the support of those who have supported this title is acknowledged at the start of the book. This is followed by photos of the authors with a small bio for each.
The contents follow with five individual builds and appendices on Churchill minutiae, details common to all marks, Mk I to Mk IV detail, Mk I and Mk II specific detail, Mk VII, Mk VIII and Crocodile details. Also included are engine reference, part templates, building the suspension the easy way and finally engine plans in 1:35 and 1:16 scale.
The five builds cover the following:
No 1 Sabre AVRE Fascine
No 2 B19 Special Irish Mk VI
No 3 Snowbound Crocodile
No 4 Long forgotten carrier
No 5 Soviet rarity a Russian MK II
Each model is discussed with the following sub-headings:
Choosing the kit and aftermarket
The build
Painting and finishing
Marking guide and also
analysing the pictures in numbers 1, 2 and 4 builds.
Conclusions
From the title of this publication it looks as if this could be the start of a series and I for one wish Chris well if this is the case.
I found this a fascinating book which is well laid out and follows a logical approach to the build and finishing with great in-progress photographs throughout. Anyone building a vehicle covered by this book will find it a one-stop for all the information required from the kit, aftermarket, decals, build and finishing techniques.
I have a crocodile in the stash and this book is the inspiration to get it down and turn it into, hopefully a better model than I would have achieved without this publication. Well done Chris and fellow authors – a stunning book and well worth a place on any Allied armour modellers book shelf.
Very Highly Recommended
Bill C.
SMN Armour Editor