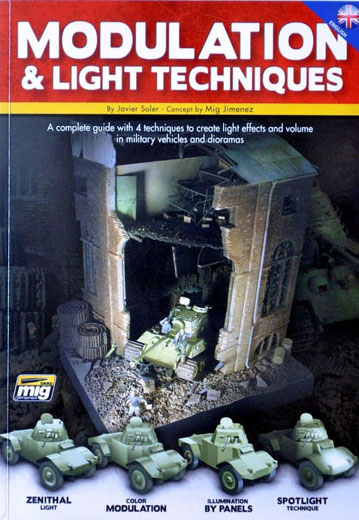 Author: Mig Jimenez, Javier Soler
Format: English text, A4 size and 103 Pages
Price around: 24.00 €
Soft cover
ISBN. 978-84-943198-4-6
Review by Bill Curtis (July 2015)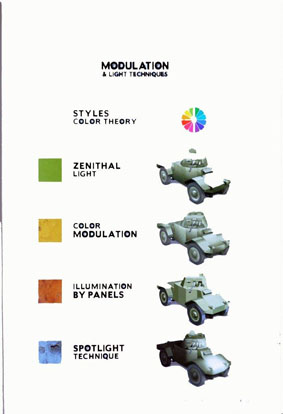 Initial assessment
This volume covers four types of painting style using light in a different ways for each. The book starts with styles and colour theory with Mig giving some valuable advice on the use of light and colour as well as his outlook on modelling.
The start is a description of each style, Zenithal, colour modulation, Illuminating by panel and spotlight lighting with photographs to show visually what has been discussed. This is followed by a section on colour theory with a diagram of the colour wheel showing cool and hot colours, primary, secondary, tertiary, complimentary, split complimentary and analogous colour.
Moving on, you get to a double page showing the effect of each style on the same vehicle which gives a very good comparison.
The first style is Zenithal Light which is a very old concept used by the Romans in a domed building with a round hole in its centre which usually had a statue beneath it.
This overhead light is not like sunlight but more like a torch held above the model shining directly down so highlights are on the top with colour graduation to full shadows below. This is explained with pictures and associated text moving through Painting and weathering to a finished model.
Colour Modulation is used to create a contrast and can be viewed from any angle and is used to exaggerate certain areas and parts that one wants to draw the viewer's attention too. Once the weathering has been carried out the modulation will be blended and a more cohesive finish will be achieved. As with the previous chapter step by step photos guide the reader through the process and weathering to completion.

Illumination by Panel
is the third style of lighting and this is achieved by painting each plane in a different hue of the base colour with the lighter where the most light falls and darker in the shadow areas. Blue filter is used to darken the shadow areas and light earth tones used for the highlight and when oils are used to fade the paintwork it also harmonises the finish.
Spotlight Technique is a new technique to me and one I feel that most other modellers will not be aware of. This is where a light is shone onto the model from the direction of the intended light source which will give a harsh demarcation between the light and shadow. Before undertaking this style a great deal of thought and practice with a lamp is necessary to give a positive idea of the shadow areas. The tool that will be of most use is of course the airbrush and a good plan. This part of the book has a King Tiger backed into a ruin factory with a light source shining from in front three-quarter and above which will force shadows to the back and sides of the vehicle which is inside the building. Having used a blue undercoat for the shadows one has some dark yellow shadows once the sand colour is sprayed over in very thin layers. The building is painted in the same manner.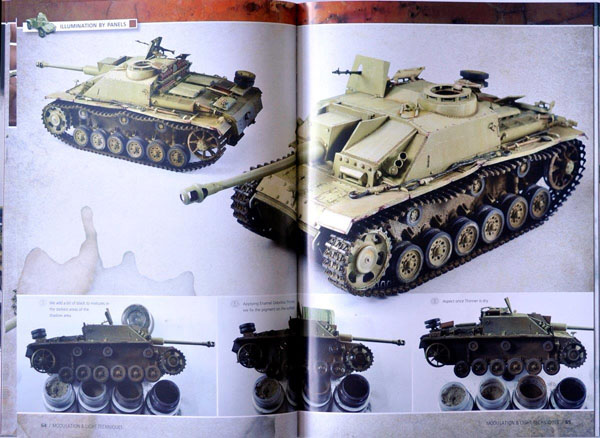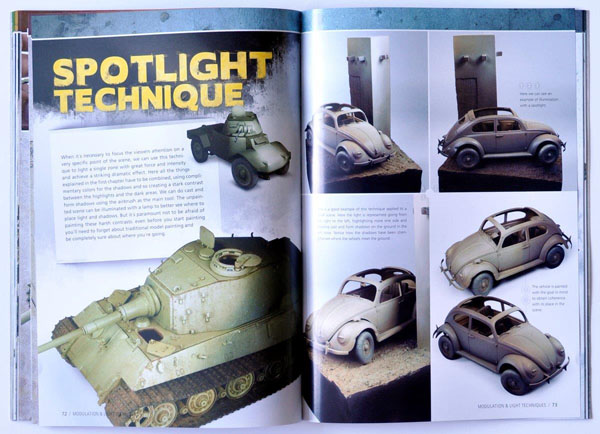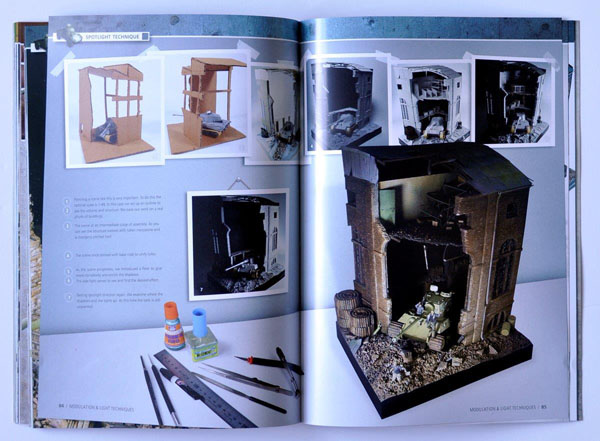 Conclusion
Javier Solar is a modeller who is pushing the boundaries of modelling with his artistically applied methods with some exceptional results. This book is a step by step approach with colour photographs and associated text explaining the methods and materials employed.
I found it enlightening with some ideas that I had not thought of and will be using in the near future.
This is a book that I feel will be of great help to modeller in expanding there options in how to paint and weather their models and also to inspire to improve ones skills.
Very Highly Recommended
I purchased my copy from Ammo of Mig: http://www.migjimenez.com/en/7-books
Bill C.