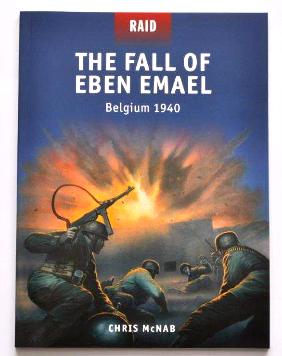 Publisher: Osprey Publishing
Author: Chris McNab
Soft back
ISBN: 978-1-78096-261-0
Review by Bill Curtis
Our thanks to Osprey Publishing for supplying our review copy.
Initial assessment
This is an 80 page Book in the Raid series in the familiar format of the Osprey books with colour artworks, maps, birds eye views and first hand accounts.
This volume is divided into the following 8 sections which in turn are sub divided:
Introduction
Origins
The Plan
The Raid
Analysis
Conclusion
Bibliography and Future Reading
Index
The assault on the fortress of Eben Emael was an early land mark for two reasons, the employment of airborne troops and the hollow charge. With the fortress being a relatively small area it was decided to use gliders as the mode of transport which could land a group of soldiers almost on top of their objective whereas a parachute drop could spread the invading forces over a lager area. For the time this was cutting edge technology and the vertical dimension had the affect of shocking the defenders.
The book takes us through all aspects of capture starting with the origins of building the fortification, the assault planning which also included the taking of the bridges and the assault on both the Fortress and the bridges which were so important for the movement of troop in Fall Gelb, The attack in the west.
I found the description of the design and build of the fort with a breakdown of the guns, positioning and fields of fire with the garrison also described.
The garrison fell to a small force of less than 90 determined well trained men who considered themselves an elite force while the defenders were static in outlook and were demoralised by the various false alarms, lack of facilities leading to boredom and the continuous cancelling of leave. This was compounded by the command and control of the fort which was divided with the higher levels miles away and really out of touch.
The battle was not a walk over for the Germans. The casualty figures speak for themselves but the determination to get the job done won through for the Fallschirmjager in all parts of the operation.
I love these Osprey books as its "a bite of history" which is well researched, written and illustrated with maps that help put the text into context, The pictures are very nice as is the painted art work, for me the one thing I do like is the first hand accounts which I find bring any book to life. A great read.
Highly recommended
Bill C.