Published by: RAF-in-Combat
Author: Phil H. Listermann
Format: Soft back, 24 pages, colour and black and white images, English text plus 3 pages of colour artwork (9 colour profiles)
Price: €9.50 (February 2012)
Review by: Geoff Coughlin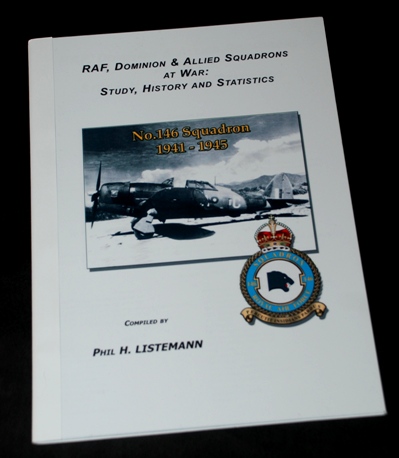 Our thanks to Phil at RAF-in-Combat for supplying our review copy.

This is certainly a new range of titles and impressive resource publications to me.
Series aims and contents…
It's useful to let you know what the author and publisher aims to achieve with this series and its contents. In this case:
"The purpose of this study is to provide aviation historians and enthusiasts with a range of information relative to each of the Commonwealth squadrons that saw combat during World War II."
Each record will comprise a short history, completed with illustrations and artwork, and accompanied by the following appendices:
Appendix I – Squadron commanders and Flight Commanders
Appendix II – Major awards
Appendix III – Operational diary (number of sorties per month)
Appendix IV – Victory list
Appendix V – Details of aircraft losses on operations (these accounts are fascinating and insightful)
Appendix VI – Details of aircraft losses in accidents
Appendix VII – Aircraft serial numbers & Letter codes (including mission totals for multi-engined aircraft)
Appendix VIII – Nominal roll (captains only for the bomber and seaplane units)
Appendix IX – Roll of Honour
As Phil explains: "Individual files will be constantly updated when any fresh information comes to light. Additional information will be available for download, at no charge, on each squadron's site at www.raf-in-combat.com.
Each file is individually printed, numbered, signed by the author and bound. Files are available from Philedition at the RAF in Combat site – details above and selected retailers."
Click on Thumbnails below to enlarge images.
From the scale modelling perspective?
What I like about this new file is the ease with which the information is presented. It's not at all heavy or over-engineered, giving you just enough information to feel that you have a good working knowledge of the equipment and crews that flew for the squadron featured, in this case – No.146.
The colour profiles are very good at the back of the publication, although going forward it will be even better to have all-aspect coverage (left and right, top and bottom) for the aircraft featured. This will enable modellers to source decals to mark up their projects accordingly and paint the subject authentically.
The black and white images are good quality and the types featured certainly have models available, which makes the publication even more relevant.
Conclusions
Highly recommended.
Personally I love it and can see that this and future titles should certainly prove popular amongst scale modellers. Keep a close eye on RAF-in-Combat for further information.
Geoff C.