Mushroom Model Publications
Author: Dick Taylor
Softback
ISBN: 978-83-61421-36-8
 Review by Bill Curtis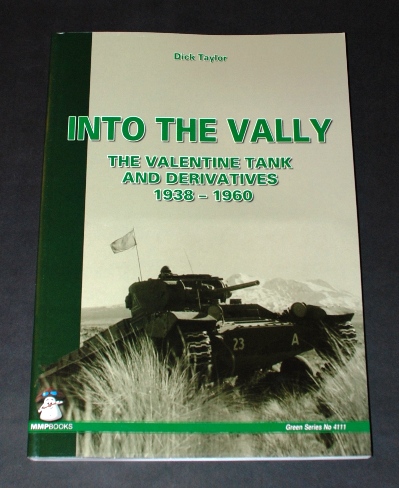 Our thanks to Stratus – Mushroom Model Publications for supplying our review sample. Get this excellent title here now at: www.mmpbooks.biz
Initial assessment…
The book follows the same format as previous subjects and is A4 format comprising 192 pages with copious black & white pictures, drawings as well as seven pages of colour schemes.
The Valentine was the only pre-war British tank design to remain in service throughout WW2 and was built in greater numbers than any other with more than 8000 being produced.  It saw service with several armies, in particular wartime operational service with the British and Soviets armies. When the Valentine became obsolete as a gun tank it soldiered on in many variants such as self-propelled guns and bridge layers.
The book is packed with reference and if you are planning to build a kit from either Mini Art or AFV club this volume will be of great help.
The main chapter's headings are as follows:
Design, Development and Production
Technical Description
Description of gun Tanks Marks
Operational Use
Painting and Markings
Overseas Service
Variants
Walkaround
Conclusion
References and Bibliography
Colour Plates.
Each chapter is covered in detail inter-spaced with period photographs, original technical drawings, scale plans and operating instructions. The sections on colour schemes and colour plates will give a good start to anyone modelling the vehicles.
Dick Taylor is a serving British Army officer and since being commissioned in 2000, he has specialised in tank gunnery instruction, with several other related subjects and has a First Class degree in History and is currently reading for a Masters degree at Dundee University.
Conclusions…
I found this book a very interesting and informative read on a subject that I knew little about. This has now been changed and anyone both new or an aficionado on the Valentine will find this volume of great use. Although most of the pictures are in mono colour I didn't find this detrimental and in some cases were quite atmospheric. Of particular interest are the walkaround pictures of a very nicely restored vehicle which are in full colour and will be of great use to modellers and historians alike.
Highly recommended
Bill C.