Authors: Marek Kruk and Radoslaw Szewczyk (Editor in Chief Dr Roger Wallsgrove)
Cover: Paperback
ISBN: 978-83-61421-29-0
Review by: Bill Curtis (Jan 2012)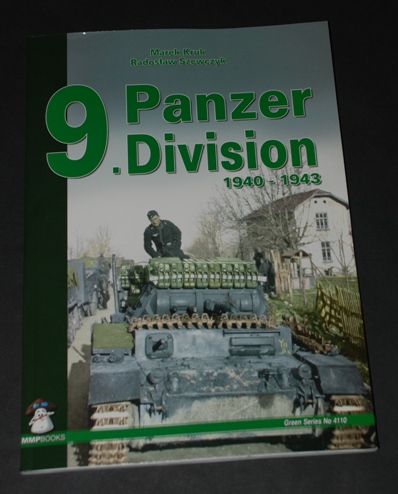 Our thanks to Mushroom Model Publications for supplying our review sample.
Initial Assessment
This is an A4 soft cover format, which is printed on good quality glossy paper. The book consists of 144 pages divided into 18 chapters.
It is the latest book in the Green Series and tells how the 9. Panzer Division was formed from the 4 Leichte Division in 1940 and through its operations. It took part in the Western campaigns fighting in Holland, Belgium and France before its transfer to Poland in September 1940.
This was followed by a transfer to the Balkans before moving to the Southern sector of the Russian Front for the invasion of Russia.
In October of '41 it was transferred to the central sector and took part in the summer offensives of '42 and the following year took part in the battle of Kursk.
This was followed by a transfer in the autumn of '43 to the Southern Sector, in order to take part in the Dnieper battles where it was heavily mauled.
The book is lavishly illustrated with black and white photographs which depict the unit and its operations, many of which are previously unpublished pictures.
Also included are maps of the operational areas, line drawings and colour profiles showing the colours and markings of the Division's vehicles.
Click on the Thumbnails to enlarge images.
Conclusions
This is a very nice book with a lot of pictures, which may spur on the Diorama builder to produce a model based on this unit.
The text is informative and is very easy to read and the colour profiles are nice at the back of the book, but only show one side view. As the majority are plain grey this is not a problem, but the others have a two colour camouflage and it would have been nice to have a multi view of these schemes.
My overriding question on a review of a book is: did I enjoy it? In this instance, I can honestly say yes I did and I hope to see many more on the German Divisions of WWII.
Highly Recommended.
Bill C.