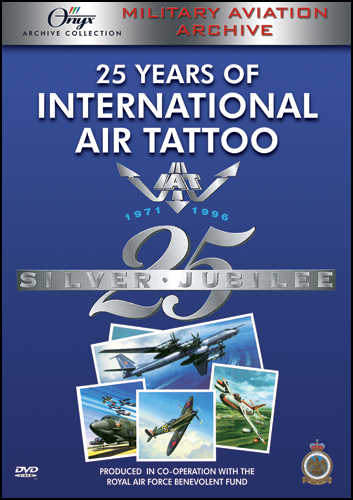 Reference: BDV293 (Onyx – Military Aviation Archive)
Produced by: Beckmann
Review by: Roger Wigley (January 2012)
Our thanks to Beckmann for supplying our review sample.
Editor's Note
You may not always reach for a DVD when considering reference material for your next scale modelling project, but when you look at the variation in titles available from Beckmann, then these video certainly offer a valuable additional resource. There are some modeller-specific titles too, so why not go and visit to see what is available…
Several of SMNs team are directly involved in the organisation and logistics of staging the annual RIAT event at Fairford, Gloucestershire, UK and/or are serving military personnel, so are uniquely placed to comment on this video.
On with the review…
For 25 years International Air Tattoo (IAT) has played host to aircraft and their crews involved in almost every aspect of aviation.
This DVD traces the history of IAT, which began as a small airshow at North Weald airfield in 1971 in aid of the Royal Air Force benevolent fund. IAT or (RIAT – R for Royal) is today the biggest multinational gathering of military aircraft in the world.
With archive footage of IAT over twenty five years, you can re-live the achievements shaping our aviation history, as well as giving due recognition and gratitude to the many thousands of volunteers who annually undertake the organisation of the IAT and the vigorous efforts of the RAF Benevolent Fund whose determination assists and has assisted countless RAF men, women and their families.
There are interviews with Paul Bowen and Tim Prince, who are the leading lights and founding members of the team.
For the modellers, some of the schemes displayed in the footage will I am sure get the creative juices flowing with such classics as Phantoms, F-104s and the Nord Nautilus.
The whole DVD is written and narrated by Sean Maffett.
Highly Recommended.
Roger W.
N.B. To find out more, here's the specific link to this great title on Beckmann Direct.