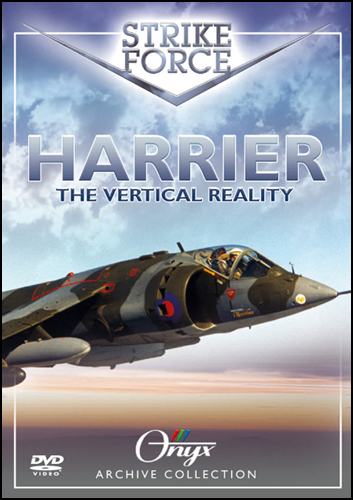 Produced by: Beckmann
Reference: BDV082 (Strike Force – Onyx Archive Collection)
Review by: Roger Wigley
Our thanks to Beckmann for supplying our review sample.
Editor's Note
You may not always reach for a DVD when considering reference material for your next scale modelling project, but when you look at the variation in titles available from Beckmann, then these video certainly offer an alternative valuable additional resource. More of these titles will be covered in SMN in the coming weeks, so keep an eye out!
The DVD
This DVD salutes the achievements of the Harrier – in peace and war, over land and sea, through test and research – taking this unique British aircraft design towards the 21st century.
It also brings you the test pilots who lifted the first RAF Harrier into the air in 1966 and the squadron pilots who flew her in the fiercest of fire fights – in the Falklands campaign and, most recently, in Bosnia.
This fast paced, action packed DVD features original and dramatic footage provided by British Aerospace and the Ministry of Defence to link with exclusive videotape taken of No1 (Fighter) Squadron's spectacular mass display of Harriers at Fairford's International Air Tattoo '96, as well as eavesdropping on briefing, kitting out and cockpit checks before a 'Four Ship' ground attach sortie from the home of the Harrier at RAF Wittering.
Also, recorded for the first time at Boscombe Down Flight Test Centre, the video shows you the cockpit of the special 'fly-by' wire' Harrier created by the Defence Evaluations & Research Agency to test the new flight control system for the combat 'jump jets' of the future – the US/British Joint Strike Fighter.
Another nice scene sees renowned actor and aviation enthusiast, David Jason, arriving at RIAT in a two-seater Harrier to be met by Del Boy's Reliant Robin and meets Test Pilot, Bill Bedford.
In summary…
For anyone who's thinking of making a model of the Harrier, this DVD has some very interesting footage to inspire you and help with all those little details.
Highly Recommended.
Roger W.
N.B. Here's the link to see more details of this Beckmann title.