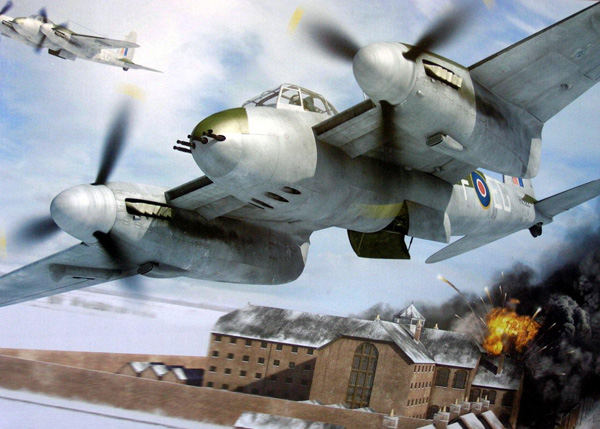 Reviewer: Dave Coward
Check out the full Here Now, early inspection review in your SMN

Our thanks to Alclad2 for supplying the metallic pint used in this build
Background Info
The de Havilland Mosquito was a British combat aircraft that excelled in versatility during the Second World War. Originally conceived as an unarmed fast bomber, the Mosquito adapted to many other roles during the air war where it saw service in the European theatre, the Pacific theatre of Operations and the Mediterranean Theatre, including: low to medium altitude daytime tactical bomber, high altitude night bomber, pathfinder, day or night fighter, fighter-bomber, intruder, maritime strike and fast photo reconnaissance aircraft carrying out aerial reconnaissance.
Following the Air Ministry's decision to start Mosquito production in 1941, it was the fastest operational aircraft in the world.
The most numerous Mosquito variant was the FB Mk VI fighter-bomber of which 2,298 were built, some one-third of Mosquito production. The protoype was converted from a B.VI first flew in February 1943.
The FB Mk VI was powered by two 1,460 hp (1,088 kW) Merlin 21s or 1,635 hp (1,218 kW) Merlin 25s. It first flew on 1 June 1942. Some 19 that were built by Airspeed Ltd were eventually modified to be completed as FB.XVIIIs. Two were converted to TR.33 maritime assault prototypes. The variant was generally armed with four 20 mm cannon and four .303 (7.7 mm) machine guns for hitting soft ground targets. The main hitting power came from the two 250 lb (115 kg) bombs enclosed in the bomb bay plus more and later two RP-3 "60 lb" rockets to carry out anti-shipping strikes. Other variations of armament fixtures could have entailed eight 60 lb (27 kg) rockets in place of any other internal load. Later the main bomb load was upgraded to two 500 lb (230 kg) bombs. Alternatively, a third option could have been an aerial mine or depth charge for attacking German submarines.
The FB Mk VI proved durable in dogfights with single-engine fighter aircraft. Retaining the forward firing armament Mosquito FB Mk VIs of No. 143 Squadron RAF were engaged by 30 Focke-Wulf Fw 190s from Jagdgeschwader 5 on 15 January 1945. In the ensuing battle the Mosquitos lost five aircraft but shot down five Fw 190s in return as well as sinking an armed trawler and two merchant ships.
The aircraft served with the Royal Air Force and many other air forces during the Second World War and postwar. The Mosquito was known affectionately as the "Mossie" to its crews and was also known as "The Wooden Wonder" or "The Timber Terror" as the bulk of the aircraft was made of laminated plywood.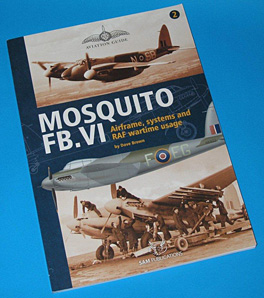 References used (See your Book Review area in SMN)
Sam Publications Aviation Guide 2 – Mosquito FB VI – ISBN: 978-1-906959-08-1
Model Data File – The DeHavilland Mosquito – ISBN: 9533465-0-1
Mosquito in Action Parts 1 and 2 – ISBN: 978-0897472852 / 978-0897473033