Reviewed by Geoff Coughlin
Our thanks to The Airbrush Company Ltd for supplying the review sample, get this great set here at: www.airbrushes.com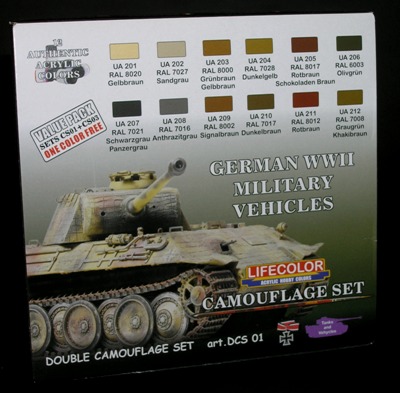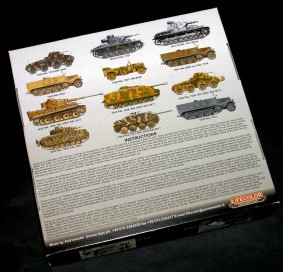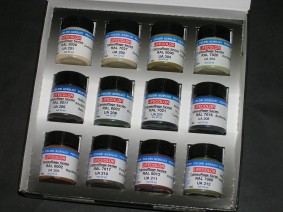 Now here's an impressive set to add to your collection! Just look at all those lovely German military vehicle colours… plenty to keep even Neil Pepper happy! (he's just very prolific – don't know how he does it?) no, this is an extremely handy set that covers just about all the colours we can think of that you might need when completing a German AFV project, so just check out the table below to see the full range you get with this acrylic set.
The 12 bottles mean that this is a 'Double' set, rather than the usual 6 we are used to. It just goes to show the care that Lifecolor has taken in providing you with just about all you'll need in terms of variation in tone. What's great of course is that you can add and mix your own tones with these to create an even greater range of options. Specifically the colours included are:
UA 201 – RAL 2020           Gelbbraun
UA 202 – RAL 7027           Sandgrau
UA 203 – RAL 8000           Grunbraun, Gelbbraun
UA 204 – RAL 7028           Dunkelgelb
UA 205 – RAL 8017           Rotbraun, Schokoladen Braun
UA 206 – RAL 6003           Olivgrun
UA 207 – RAL 7021           Schwarzgrau, Panzergrau
UA 208 – RAL 7016           Anthrazitgrau
UA 209 – RAL 8002           Signalbraun
UA 210 – RAL 7017           Dunkelbraun
UA 211 – RAL 8012           Rotbraun
UA 212 – RAL 7008           Graugrun, Khakibraun
These colours are designed to be hand and airbrushed and have good opacity and durability. Lifecolor thinner is recommended. The box back contains useful information on how to work with these good quality modelling paints, and that's always useful.
We've been looking for an opportunity to try these out and Andy Argent is using them to finish his excellent build of the Great Wall Hobby (GWH) Flak 43.
Here's a comment from Andy:
"I have decided to paint this vehicle in Acrylics and the German vehicles colour set from Life Color is the set of choice. This is a great set. There are all the colours you want in one set and the paint goes on with ease and has great coverage."
Recommended
Geoff