Reviewed by Geoff Coughlin
Our thanks to The Airbrush Company Ltd for supplying the review samples www.airbrushes.com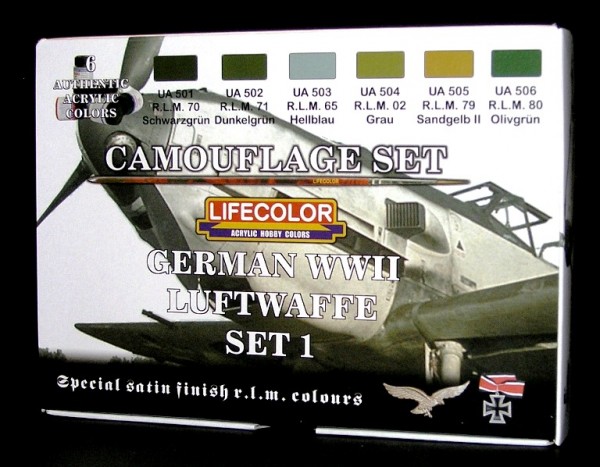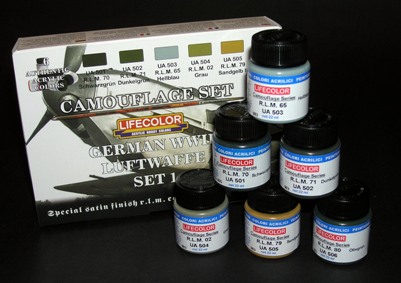 Building on their excellent themed paint sets from Lifecolor, here is SET 1 and the eagle-eyed amongst you will notice that this is the first of two sets (see also CS 07 – SET 2) featuring camouflage colours worn by German Luftwaffe aircraft later in WWII. The 6 bottles of acrylic paint included are an authentic match for the RLM camouflage colours applied to many Luftwaffe types in several Theatres of operations, including the desert. Specifically the colours included are:
UA 501 – RLM 70 Schwarzgrun
UA 502 – RLM 71 Dunkelgrun
UA 503 – RLM 65 Hellblau
UA 504 – RLM 02 Grau
UA 505 – RLM 79 Sandgelb II
UA 506 – RLM 80 Olivgrun
These colours are designed to be hand and airbrushed and have good opacity and durability. Lifecolor thinner is recommended. The box back contains useful information on how to work with these good quality modelling paints, and that's always useful.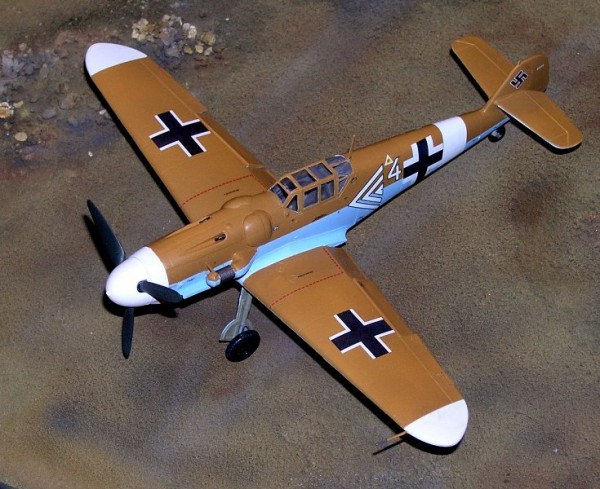 Gareth on the review team has now used these paints on a rather nice Bf-109 project and we'll bring you more on that build in due course. However, he says that he's found this paint excellent to spray and from the results from the last club meet, that's certainly the case.  Note that Gareth's model isn't finished yet, plenty of weathering to go, but you can get an idea of the good coverage and depth the Lifecolor paint has given the model.
Recommended
Geoff Coughlin