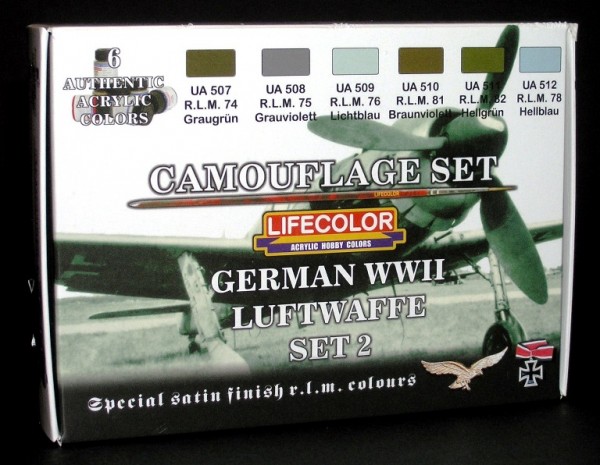 Reviewed by Geoff Coughlin
Our thanks to The Airbrush Company Ltd for supplying the review samples www.airbrushes.com

Building on their excellent themed paint sets from Lifecolor, here is SET 2, this one following logically from Set 1 including RLM colours more appropriate to earlier WWII Luftwaffe aircraft (see also CS 06 – SET 1 in the Here Now area of your Mag)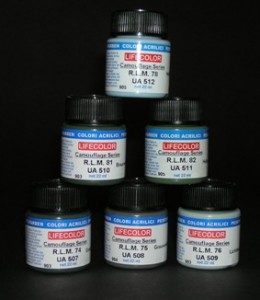 The 6 bottles of acrylic paint included are an authentic match for the RLM camouflage colours applied to many Luftwaffe types in several Theatres of operations, including the Russian Front and the West. Specifically the colours included are:
UA 507 – RLM 74 Graugrun
UA 508 – RLM 75 Grauviolett
UA 509 – RLM 76 Lichtlblau
UA 510 – RLM 81 Braunviolett
UA 511 – RLM 82 Hellgrun
UA 512 – RLM 78 Hellblau
These colours are designed to be hand and airbrushed and have good opacity and durability. Lifecolor thinner is recommended. The box back contains useful information on how to work with these good quality modelling paints, and that's always useful.
Gareth on the review team has now used these paints on a rather nice Bf-109 project and we'll bring you more on that build in due course. However, he says that he's found this paint excellent to spray. You can see a picture of Gareth's unfinished model in the Here Now review of set 1.
Recommended
Geoff