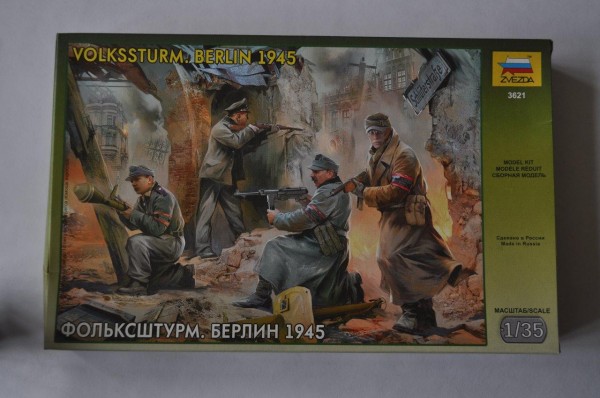 Reference number: 3621
Review by: Bill Curtis (May 2012)
Initial Assessment
The kit comprises a single fret with four figures moulded in light grey plastic.
These figures depict the spread of the age groups that formed the Volkssturm and the faces depict this very well, which with some careful painting will really bring them to life.
The clothing is also well depicted, but the edges could do with some scraping to more accurately represent the cloth thickness.
The youngest figure holds a Panzerfaust with the three other older guys holding a rifle, an MP40 and what appears to be a 7.92mm Volkssturmgewehr 1-5 held by the last person with overcoat and trilby hat.
The dimensions of the figures looks to be good but the one thing that I found annoying was that no ammo pouches or other items of kit are included for the figures. These will have to be sourced from the spares box. Even at the latter stages of the war, personnel kit was issued, even if the weapons and ammunition was outdated and limited.
Quality
The quality of the figures is pretty good with faces, cloth folds and hands being some items which stand out. There are some seams on the parts but these can be easily scraped off.
Instructions
The instructions come on a single sheet of white paper printed in black, the sprue map is printed with its parts numbers showing placement for the following individual figures with each figure depicted in an exploded view.
The colours are laid out on the last part of the instructions with the only paint being quoted being Model Master so a conversion chart will be required if you use something different.
Decals
None, but I would have liked to see some for the Volkssturm arm bands as these will be a challenge to the average modeller.
Conclusions
I feel this is a mixed bag with more positives than negatives.
The subject is a good one, as is the quality of the casting but the leaving out of the items of personel kit when shown on the box art is a definite let down.
I bought this kit and it was a very reasonable price for the four figures and Zvezda has to be encouraged to continue with their subject matter and for the continued quality improvement.
| FEATURE | STAR RATING (out of five) |
| --- | --- |
| Quality of moulding | **** |
| Accuracy | **** |
| Instructions | **** |
| Decals | N/A |
| Subject choice | ***** |
| Overall | **** |
Recommended.
Bill C.