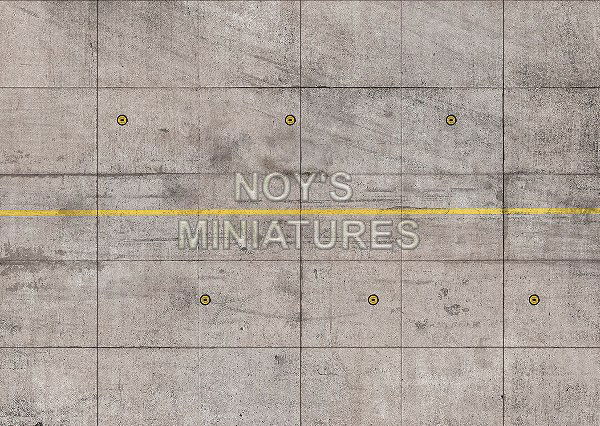 Review by Geoff Coughlin (Jul 2013)
Review samples kindly supplied by Noy Pines at Miliscale Noy's Miniatures
Contact: noypines@netvision.net.il
Contact details:
Noy Pines, 90 Shderot Ben Gurion St.
Tel Aviv 64515, Israel
Phone: 972-3-5244845 | Fax: 972-3-5271461
Payment can be made by PayPal. Contact address for further details
The new South East Asia set
Here's a new set from Noy's Miniatures, quality printed on cardstock, for dioramas. This unique and innovative tarmac sheet set authentically represents a US airfield during the South East Asia conflict, and is aimed at the SEA US aviation enthusiast.
The set includes 2 sheets: The first sheet depicts the concrete surface upon which the aircraft park; the second is a backdrop sheet depicting a typical and accurate revetment wall, a view of the airbase behind it with Vietnamese forest mountains in the background and a US helicopter hovering above. This impressive new sheet set, available in 1/144, 1/72 & 1/48 scales, will fit many US aircraft types of the period and will therefore appeal to many aircraft models enthusiasts. Note that as with other Noy's Miniatures sheets, everything is printed. However real and authentic looking, all effects are 2D. It's up to the modeller to add whatever 3D items he, or she, wishes.
Approx. dimensions:
Each 1/144 sheet: Length: 14.8 cm / 5.82 inch; Width: 10.5 cm / 4.13 inch.
Each 1/72 sheet: Length: 31 cm / 12.2 inch; Width: 22 cm / 8.66 inch.
Each 1/48 sheet: Length: 39.5 cm / 15.5 inch; Width: 28 cm / 11.02 inch.
This is a great addition to the growing family of display base prints offered by the manufacturer and all are very authentic. What's especially useful is that you can always add additional items to enhance the 3-D effect and I'm sure many modellers will do this.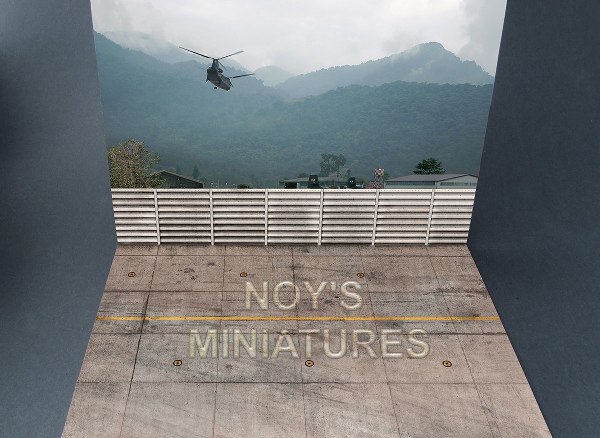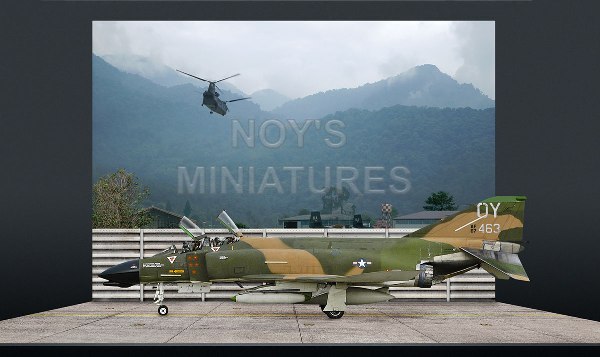 How I've used these bases before
There's no doubt that the card bases will add greatly to show off your latest creation. They will stick very well to a hard wooden or base board with ordinary PVA white glue. I've done it several times now and it works very well. Just apply glue to the whole of the back leaving no gaps and add a supporting flat weight like a large book to keep the surfaces flat while drying and voila, job done.
What I have done is lightly spray flat varnish over the base to tone down the slightly shiny appearance of the printed card and this works well – just go easy and build up any effect, leaving the card to dry between applications.
Verdict… Recommended
A great 'quick-fix' to enable you to display your SEA models, saving you a lot of time that can be devoted to more model building!
Geoff C.