£6.95 (at 26Nov10)
Reviewed by Geoff Coughlin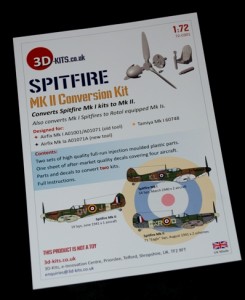 Our thanks to Stewart at 3D-Kits for supplying us with this review sample. Get this excellent conversion kit here now at: www.3d-kits.co.uk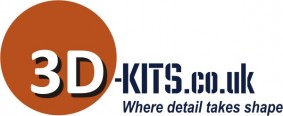 About 3D-Kits…a note from Stewart at 3D…
3D-Kits started in November 2010 with the aim of providing modellers with first class conversion and accessory kits that combine the detail of resin with the ease of polystyrene. Making use of the most modern design and manufacturing techniques we are able to provide full-run injection moulded parts with the detail and finesse that modellers usually associate with resin, but without its problems. Our products are historically accurate, manufactured to high specifications and at affordable prices. We want to change the way that modellers view conversion and detailing, and make it simpler, more accessible and fun.
Our first products are based around Rotol-propellered early Spitfires (especially the Mk.II) and offer parts and decals to produce these interesting, numerous, but rarely seen versions.
Future releases are now being planned and are likely to include a two-stage Merlin conversion for 1:72 Mosquitos and a set of RAF/FAA WWII bombs and other ordnance in 1:72 and 1:48.
It's great to see a new quality manufacturer on the block. You get in this set: plastic parts and decals to convert two Airfix or Tamiya Spitfire Mk.I kits to Mk.II. The kit includes seat and control columns that are suitable for later Mks of Spitfires (e.g. the new Airfix Mk.IX). The plastic parts and decals are also available as separate items: decals 72-C001-A (£4.50), parts 72-C001-B (£2.95).
The plastic…(and instruction card)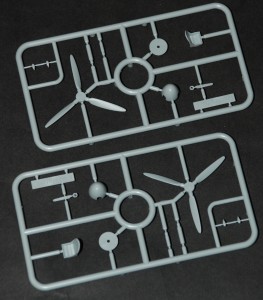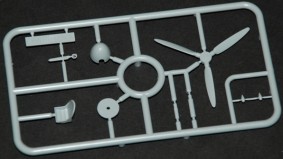 Frankly the quality is staggering and certainly lives up to the claims made by 3D-Kits in the piece above. You also get two sprues so that you can convert two Spitfires… You'll see from these images that the parts have been moulded with very thin gates between the parts and sprue tree making their removal much less hazardous and reducing the risk of damage to each item.
There are no flaws at all in any of the parts and the whole thing is moulded in high quality grey plastic. The edges of the Rotol props are extremely fine and this will bring great finesse to your finished Spitfire model. As far as I can see they shape and contours of all parts looks spot on and this bodes very well for future offerings. The curvature of the Rotol spinner is very distinctive and this has been captured very well.
The control column is a little gem, featuring the fine cabling so typical of Spitfire control columns and to go with that is an excellent seat. This even has the pan and back rest detail engraved and has beautifully thin sides and edges giving a great scale effect to your cockpit.
The instruction card that's included in the pack is excellent. All sprue parts are clearly labelled and clear guidance is also provided for what to use depending on the actual kit you are converting. The whole feel of the card and presentation is out of the top drawer.
Decals too!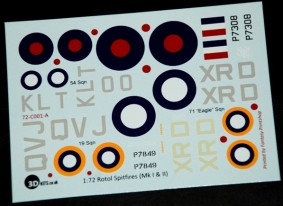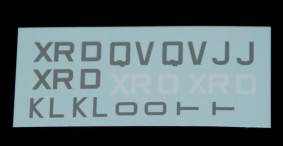 Inclusion of appropriate decal options for Mk.II Spitfires is inspired making the task of simply selecting your chosen Airfix or Tamiya kit and conversion very straightforward – impressive. Better still is the fact that the decals are printed by a quality decal manufacturer – namely Fantasy Printshop, a good choice and I know as many of you will do that the quality of their decals is top drawer.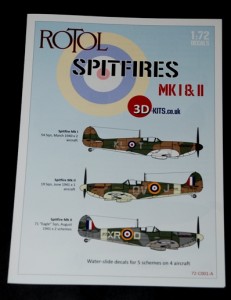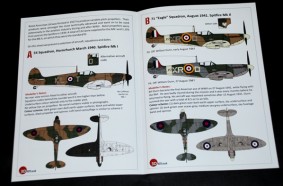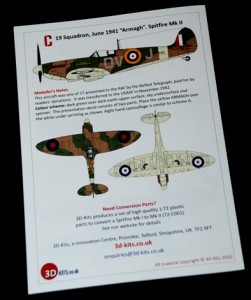 Options for 5 schemes on 4 aircraft are included. The colour instruction guide is excellent with clear profiles and diagrams giving precise decal placement and also painting instructions for each scheme.
Conclusion…
To sum up this package does exactly what it says on the can – make converting your Spitfire simpler, more accessible and fun! My comments say it all above. What a positive start by 3D-Kits and you can be sure that you'll be seeing a lot of their products here in your SMN over the coming months. The production and presentation is second to none and the option to buy the plastic and decals separately is certainly going to cater for our needs as modellers.
Highly recommended
Geoff C.