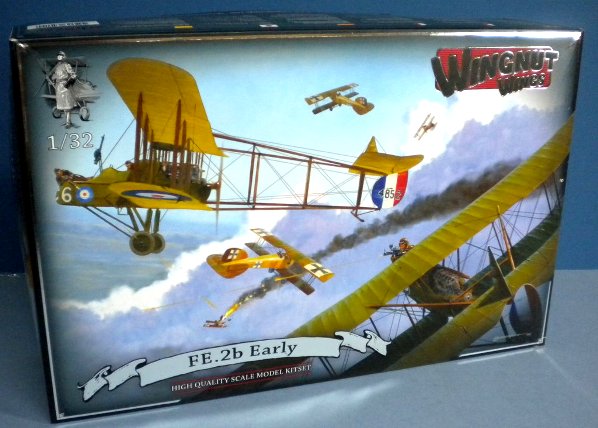 Materials: Injection Moulded Plastic
References:
The instructions (all one needs really to be honest)
The 3 Videos enclosed in the review below. The film of the real thing wheeling out of its hangar is sheer inspiration.
Review by: Les Venus (Jan 2012)
Our thanks to Wingnut Wings for supplying our review sample.
Some fantastic bits of reference…
Background
This will be my last Wingnut Wings (WW) 'Here Now' review for a while, as not only do I need to build a few of these kits, but I also really need to let you have someone else's opinion!
I know that we at SMN have this WW FE.2B (Late) as well both the late and early versions of their new Rumpler C1.V. No doubt, Geoff will allocate these to one or more of his fabulous team and it will give someone else a chance to have a crack at these truly glorious kits.
My view (and just between us) is that I would love to see Geoff have a crack at one of the Rumplers, as his WW Brisfit remains the benchmark for builds from WW in your SMN, so it's about time we saw another from the master!
He is a shameless German aircraft fan (principally WW2 Luftwaffe) and he would do a fantastic job on one of the WW1 Rumpler's. (Ed's Note – Ok, I give in – it's in the schedule for a little later in the year! Geoff).
Before any of that though, I have been really looking forward to seeing this one from WW and we at SMN are again one of the first in the world to get one of the beauties.
I of course had to have one to build and for me the early version here really evokes the type best; especially that early tricycle undercarriage and that natural linen finish.
It is incredible really, but until this year I had no interest in WW1 aircraft and now, ships aside, I can't think of building much else. I know that this will change again, especially as I never stay rooted to the spot for long.
What I am trying to say is that you should give something new a bash, go out of your comfort zone push a barrier or two stretch your imagination and, whatever the end result, you will love the experience.
That said, looking at the FE.2B, if you are making your first foray into WW1 modelling, don't do it with this kit. Here's why…
The Box
The box is again huge and the lid is adorned with a great picture of a couple of FE2's dog-fighting.
It's sturdy and ensures that it protects the contents, as well as being a useful receptacle during the build.  It does make for a more expensive product overall, but I feel sure that the overall feel and quality of the kit is defined initially by the box; it's that buying moment and I think WW policy here is spot on.
Instructions
If any of you regularly read my drivel will know by now how I feel about WW instructions. They are quite simply how it's supposed to be done. Only Eduard gets close in my opinion, but they are still miles behind.
With the FE.2b, I think that WW have stepped it up another level. It may be because they have access to a flying replica in New Zealand (see the video above), but they really have gone to town on this one; it's obviously a labour of love.
I have picked a couple of shots from the off that show cockpit and fuselage assembly and just look how the instructions for the kit are reflected in really top class colour photography of a 'real' FE.2b. Having reference available is always great, but having such key reference on the page that you need it really is the best.
As you move through the instructions, there are more and more gems. The undercarriage is particularly evocative on this type and again the instructions come up trumps with some great shots of the real thing.
Regular readers will know how much I enjoyed building the engines on both the Albatross and Pfalz. I did a bit on the RE 8 too as I will on the Gotha, but just look (below) at the detail shots you get with the FE…! I tell you now: I am going to town on this one.
Rigging on a bi-plane model is a must-have, but on the FE it will make rigging the USS Arizona blindfolded seem easy!
To be fair, WW give some outstanding rigging diagrams but this will be no easy job and will be a real accomplishment when I have finished. The complexity of the rigging will no doubt put off many possible buyers of this wonderful kit, which will be a real shame.
But I commend WW for releasing not just one version of this aircraft but 2; these guys are modellers first and it's this sort of commitment to our hobby we really must continue to support.
I said that I prefer the early version of this aircraft and you can see why with the schemes provided.
They so evoke early aviation, especially the clear doped linen look which whilst a challenge is one that I am relishing. The five choices offered in this kit are imaginative and will be very impressive in this large scale.
Key will be representing that CDL look, which is a challenge I relish and what makes WW1 aviation modelling so much fun.
Decals
The decal sheets provide everything that is needed. And I mean everything; including stencils and even markings for the struts.
I know from my experience that the WW decals work well, but they do need a high gloss surface and plenty of water to move them around without damage.
Colour density look excellent and the pale colours of the roundels perfectly reproduce the markings of the real aircraft. I am really excited about this kit and feel that it will, if done properly, look spectacular.
Your SMN will feature not just one build but two, with Dave C already making a start on his! So you really will get all you need and more to have a go yourself.