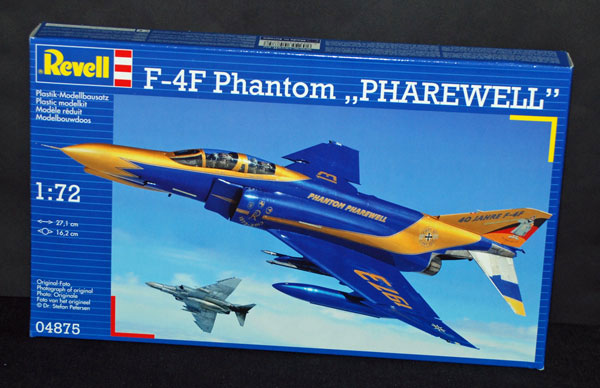 Kit ref: 04875
Price: around £14.99 GBP (Apr 2014)
Review by Geoff Coughlin
Our thanks to Revell for supplying our review sample. Revell model kits are available from all good toy and model retailers. For details visit www.revell.de/en, @RevellGermany or facebook.com/Revell
A little bit of inspiration here…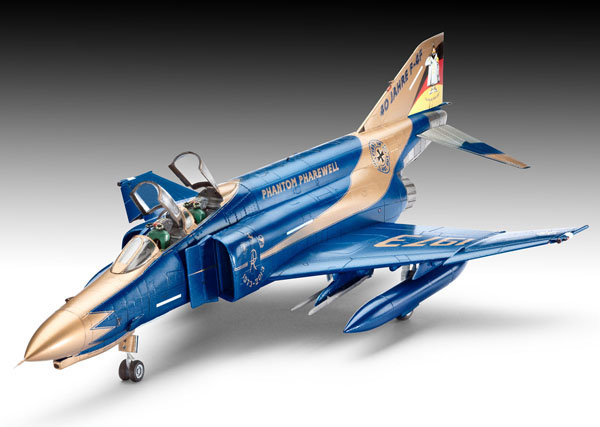 A little bit of background
The German Air Force (Luftwaffe) initially ordered the reconnaissance RF-4E in 1969, receiving a total of 88 aircraft from January 1971. In 1982, the initially unarmed RF-4Es were given a secondary ground attack capability; these aircraft were later retired in 1994.
In 1973, under the "Peace Rhine" program, the Luftwaffe purchased the lightened and simplified F-4F which was upgraded in the mid-1980s. 24 German F-4F Phantom IIs were operated by the 49th Tactical Fighter Wing of the USAF at Holloman AFB to train Luftwaffe crews until December 2004. In 1975, Germany also received 10 F-4Es for training in the U.S. In the late 1990s, these were withdrawn from service after being replaced by F-4Fs. Germany also initiated the Improved Combat Efficiency (ICE) program in 1983. The 110 ICE-upgraded F-4Fs entered service in 1992 and were expected to remain in service until 2012. All the remaining Luftwaffe Phantoms were based at Wittmund with Jagdgeschwader 71 (fighter wing 71) in Northern Germany and WTD61 at Manching. The German Air Force retired its last F-4Fs on 29 June 2013. German F-4Fs flew 279,000 hours from entering service on 31 August 1973 until retirement.
The Revell Kit
This isn't a new-tool F-4F Phantom but the still recent release from 2013. What you get is a well-tooled model that's current in terms of approach and breakdown. Revell has re-released a model with new JG 71 Phantom Pharewell anniversary decals and now moulded in blue plastic. Read on to find out more about what's actually included…

Box and contents
Impressive box art sells and this, one of the final schemes applied to an F-4F is certainly attractive – I mean, just check out the photo above showing the manufacturer's model all made up.
So what's inside…?
The blue sprues are packaged well and no damage is apparent. Taking the main components first, they are well tooled, recessed panel line detail and having a quality feel. No distortion was apparent and a dry fit of the main fuselage sections offers a good fit around the joins.
The cockpit looks busy enough with good ejection seats for the scale that are each made up of 5 parts no less. Decals provided on the decal sheet for the main instrument panels although the raised moulded detail is good and could look very good if carefully painted.
Weapons and stores
You can see for yourself that Revell has included plenty of stores options (AIM-9L Sidewinder AA and Sparrow AA missiles and those classic wing fuel tanks). The stores are well tooled and the complete range on offer can easily be seen in the accompanying images.
Undercarriage sprues
The wheels bays and main gear units are features of any Phantom kit and so, it's good to see that they are well detailed here.
Clear parts
The clear parts look clear and the canopy rear portion is provided in two parts, so you can pose the canopy open or closed. The parts are clear and no defects apparent.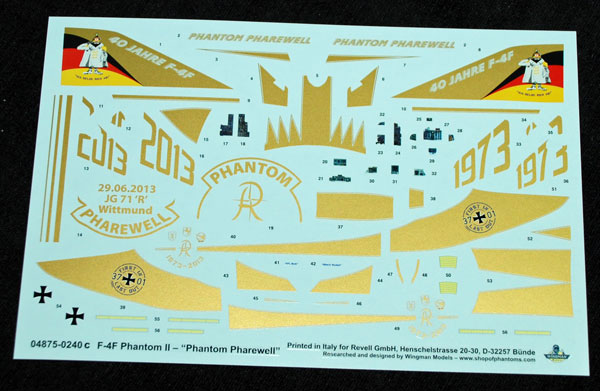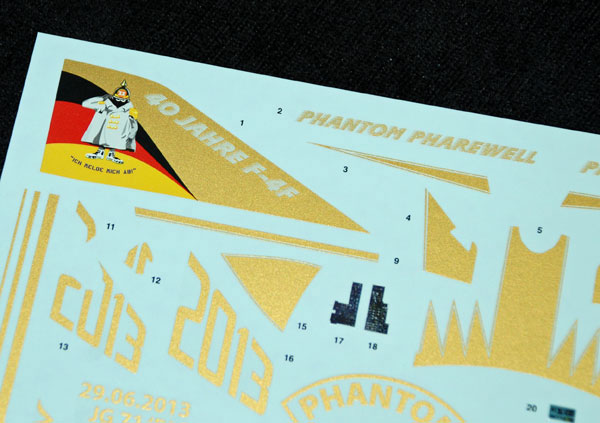 Instructions and decals
The Revell instructions follow their usual exploded stages format. Location of parts is clear but colour paint coding is for Revell paints only. However, the FS colour references are provided and this will help you to match your own choice of paints. The build sequence is pretty standard and logical but many modellers will part company with the stated order to suit their experience.
The decals look to be good quality – certainly good subject choice, you won't be able to miss your F-4F model on a display table! Stencil detail is also provided and is almost always well worth adding, even in 1:72 scale to add additional interest to your completed model, but I suspect you'll have your own views on this. All the colours are in register and colour density looks impressive and carrier film limited, so I wouldn't expect any problems with application.
Conclusion
This is a great subject, should sell well and be popular with modellers, especially with those that have an interest in all things modern and German Luftwaffe. The inclusion of great colour schemes on Revell's decal sheet is great and of course the model itself looks to be well engineered at first glance and from the dry/test-fit. Moulding is good and the panel detail perfectly reasonable for current 1:72 scale kits.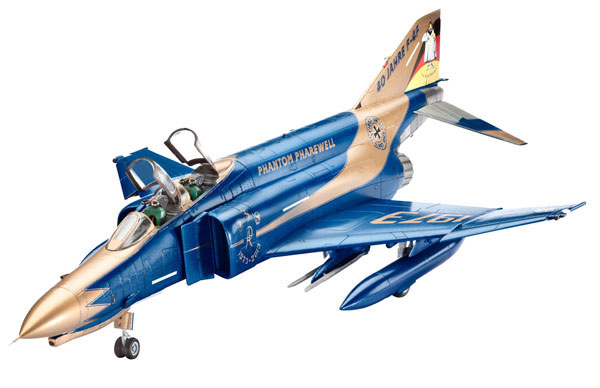 Recommended for all scale modellers
Geoff C.
SMN Quick summary Star rating out of 5
| FEATURE | STAR RATING (out of five) |
| --- | --- |
| Quality of moulding | **** |
| Accuracy | **** |
| Level of detail | **** |
| Instructions | *** |
| Decals | **** |
| Subject choice | **** |
| Overall | **** |